Here's a snippet from The Guardian, September 14, 1914, showing the September 1914 tide predictions for Charlottetown and highlighting the high tide times for this day, 100 years ago: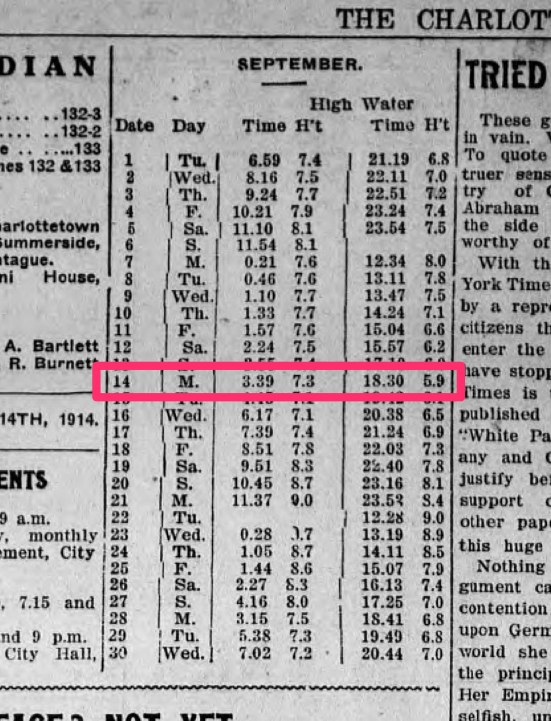 Here's a snippet from The Old Farmer's Almanac Tide Predictions Calculator showing the predicted tides for September 14, 1914: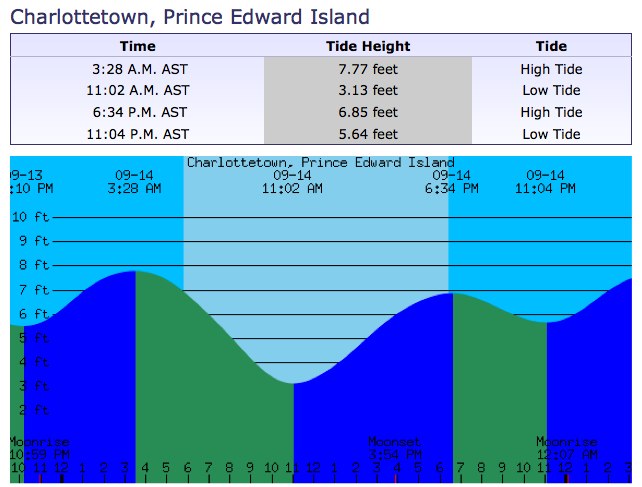 Comparing the two you can see that the high tide times predicted in The Guardian 1914 were 3:39 a.m. and 6:30 p.m.; the Almanac's modern-day calculation puts these at 3:28 a.m. and 6:34 a.m., a different of 11 minutes and 4 minutes respectively. The Guardian predicted high tide height of 7.3 feet and 5.9 feet; the Almanac predicts 7.77 feet and 6.85 feet; not the same, but certainly in the same ballpark.
Although most every day of my working life for the past 18 years has, in one way or another, been steeped in the Moon and the Sun and the tides and the planets and the weather in one way or another, it never ceases to amaze me that the forces of nature have such a rhythm that they can be predicted not only a month in advance, but from a distance of 100 years.