I don't think anyone under 50 uses the term "CPU" to describe their computer, do they? I just got email from a friend who said "I just got a new CPU." It sounded weird.
A new Robin's Donuts has suddenly appeared on University Avenue in downtown Charlottetown: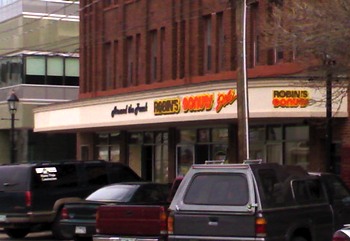 Although nobody in the building itself seems to know (or at least willing to tell), all that renovation on the ground floor of the Atlantic Technology Centre is related to expansion by CHTN. I asked at the main desk and was told simply that it was "new office space," but the blueprints, clearly visible through the front window, are labeled "CHTN South Studio."
I'm now a couple of weeks in to my money saving chai trick and I'm loving it; while the original inspiration was cost-savings, I actually like straight-ahead brewed chai tea, sweetened and milked to taste, a lot better than the expensive "latte" version I'd been drinking all along. And it's even cheaper at Timothy's: you can walk out with a reasonable approximation of a high-fallutin "chai latte" for less than $1.50.
I thought I was going to be pulled back into world of the Tim Horton's "Iced Capp" this season, what with the sexy new packaging and new "flavour shots." But I had a raspberry-flavoured one, and it tasted like cough syrup, so I've escaped the grasp.
We're off on our EuroTrip starting Monday, so I'm busily trying to mail off tax payments and clean up the physical realm so I can work entirely virtually. Stay tuned for updates From The Road.