At times in the past, when selected of the readership have become disenchanted with the things I write here, they have drifted off into conversations about building contraptions to fling cars. I do not know why they do this; I suspect it has something to do with the Harp & Thistle restaurant, and the paroxyisms of glee that the hearty curries and beers therefrom induce.

Realizing as I do the fact that this sub-group may be finding the endless discussion of street drugs, Leo Broderick and digital television less than thrilling, I've decided to take a pre-emptive action.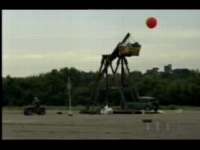 Witness the picture at right, which is a still from this week's episode of the TLC/Channel 4 programme Junkyward Wars (aka Scrapheap Challenge in the UK).

The challenge: build a machine to fling a Mini.

I grabbed a video clip of the climax of the episode [4.1 MB Quicktime] which shows the trebuchet built by team "Barley Pickers' " on its maiden voyage. It is not pretty.

The clip begins with new host Lisa Rogers; she's a capable replacement for series creator and former host Cathy Rogers. She joins Robert Llewellyn, whose absence from the U.S.-produced episodes is a shame, especially as his role there has been played by a series of annoying men with goatees.

So, there you go: proactive mention of car flinging and trebuchets; fill your boots.