Last night, having concluded my business with my comrades at Yankee Publishing in Dublin, NH, I headed west to Brattleboro, Vermont for the evening.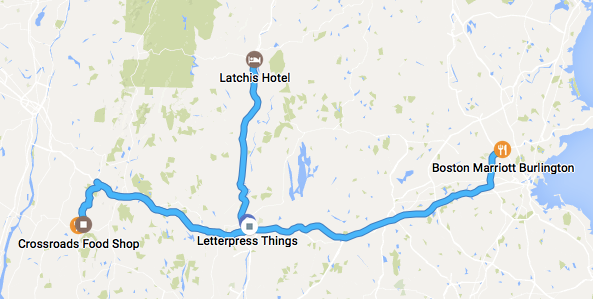 Brattleboro is one of my favourite towns: it's so palpably Vermont, and yet so New Hampshire-proximal – you need merely look east to see New Hampshire rising up across the river. The Brattleboro Food Co-op is a model for how groceries should be sourced, arranged, managed and sold (and is an excellent place to grab a quick meal to boot). Mocha Joe's makes a very good cup of coffee. The Latchis Theatre is a gem of a cinema. And the Latchis Hotel, which sits astride the theatre, turns out to be a well-run, scrupulously clean, gem of an art deco hotel. I could live there, easily.
After enjoying the fruits of all of the above – supper at the Co-op, Inside Out at the movies, a night in the hotel and a morning coffee at Mocha Joe's – I hopped back in my Fiat 500 and turned onto Interstate 91 south toward Chicopee, Massachusetts, home of Letterpress Things, one of the few stops on the North American letterpress printing trail I'd yet to visit. I pulled into Chicopee around 10:00 a.m. and emerged, 2 hours later, equipped with two new fonts of type and various other bits of printing ephemera, happier and wiser for having spent time with John Barrett, personable owner. John has created a wonderful showcase of all things letterpress, a showcase targeted directly at the hobby printer demographic that I fall in the middle of. He's kind and patient and in it for the joy more than the money. Stock is carefully and helpfully arranged, and John is ready with advice and counsel. I'm so happy I arranged to stay an extra day to be able to make the trip.
Shortly after Noon I loaded up the Fiat with my purchases and headed even farther west, arriving in the hamlet of Hillsdale, New York at 2:00 p.m. where I found my way to the home of Tessa Blake and Ian Williams, friends I see all-too-seldomly (the last time was at Zap Your PRAM in 2008). Ian and Tessa and I caught up over lunch at CrossRoads Food Shop and then, back at their house, I got to finally meet their long-rumoured daughter and a coterie of other Williams and associated acolytes, young and old. Many interesting conversations were shared over cups of tea, and then, as darkness fell and still others started to arrive for supper around their impossibly large table, I bid all adieu and headed back the way I came, toward Boston.
Through darkness and rain I drove for just under 3 hours, finally arriving here in Burlington, Massachusetts around 10:30 p.m., exhausted after a longer day of driving than I've had in years.
Three states in twelve hours. Much ground covered. A good way to segue out of New England and back to Prince Edward Island, where I'll land tomorrow afternoon by way of Halifax. Flying, fortunately, not driving.
The Fiat 500 I rented, by the way, was a replacement for the Prius I originally reserved: the Prius I was offered ended up being a tired, old, dirty, smelly one with many miles on the odometer; when I spied a 500 on the lot I saw my way out, and, happily, one was available. It was a perfect little car for a week of solo motoring: peppy, nimble, and very fun to drive. I'd rent one again in a heartbeat.
I navigated my way around using my Moto G Android phone, using a combination of Waze (helpful, but alas prone to crashing) and Google Maps (less helpful, but rock solid), getting data via a AT&T GoPhone SIM I purchased at the Burlington Mall on the way up to Dublin on Tuesday, using Dan James's helpful 2011 instructions as a guide. It cost me $2/day on days I made one or more phone calls or sent one or more texts and $1/day on days I only used data (100MB/day, which served me just fine). Coverage was excellent everywhere except in the many dead zones in and around Peterborough and Dublin, NH.