As if the new parking obelisks weren't enough, users trying to pay their parking tickets online this morning here in Charlottetown were greeted with this message: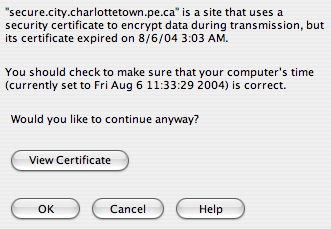 The City's digital certificate expired at 3:03 a.m. this morning. Same message appears for utility bill payments.
While I question the value of a proprietary online system for parking tickets and utility bills in a place the size of Charlottetown, the least the City can do is to ensure that the electronic behemoth is properly fed.
Can somebody warn the City fathers about this for me?