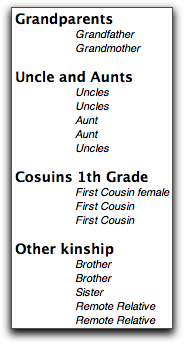 I've been using MacFamilyTree this week to try and make some order out of the various email messages, scraps of paper and family histories that together describe my father's side of the family.
I'm new to the arcane world of genealogy, and one of the things that strikes me as odd is that there's no was to enter non-related people in MacFamilyTree; I assume this means that, in genealogy in general, the notion of "friends" isn't considered; it's all about family.
Given that genealogy is "a line of descent traced continuously from an ancestor," I suppose this makes technical sense. But if my goal is to understand the context of my ancestry, surely the people that were friends, acquaintances, shopkeepers, neighbours and otherwise a part of my ancestors' lives are important, aren't they?
I wonder if anthropologists, or perhaps sociologists, have digital tools that are MacFamilyTree-like, but not so rigid in their rules about who matters.