For all the years I've been involved with Prince Street School I've been hearing tales of these great, tears-streaming-down-cheeks assemblies that students put on throughout the year to do things like mark events and recognize volunteers.
Indeed I'd been receiving an invitation to come to the annual volunteer recognition assembly for the past few years, but I'd never made the time to do so (perhaps because I didn't consider myself a real volunteer).
But this year I had a special task as the home and school association was recognizing teacher Philip Brown with the Teacher/Staff Appreciation Award. And so this afternoon at 1:00 p.m. I joined all of the real volunteers (like Shirley, who's in the school every day helping kids learn how to read, or Dana who keeps hotdog day running, or Catherine, who's always doing fun and interesting art projects with Oliver's class) in the Prince Street gym for the assembly.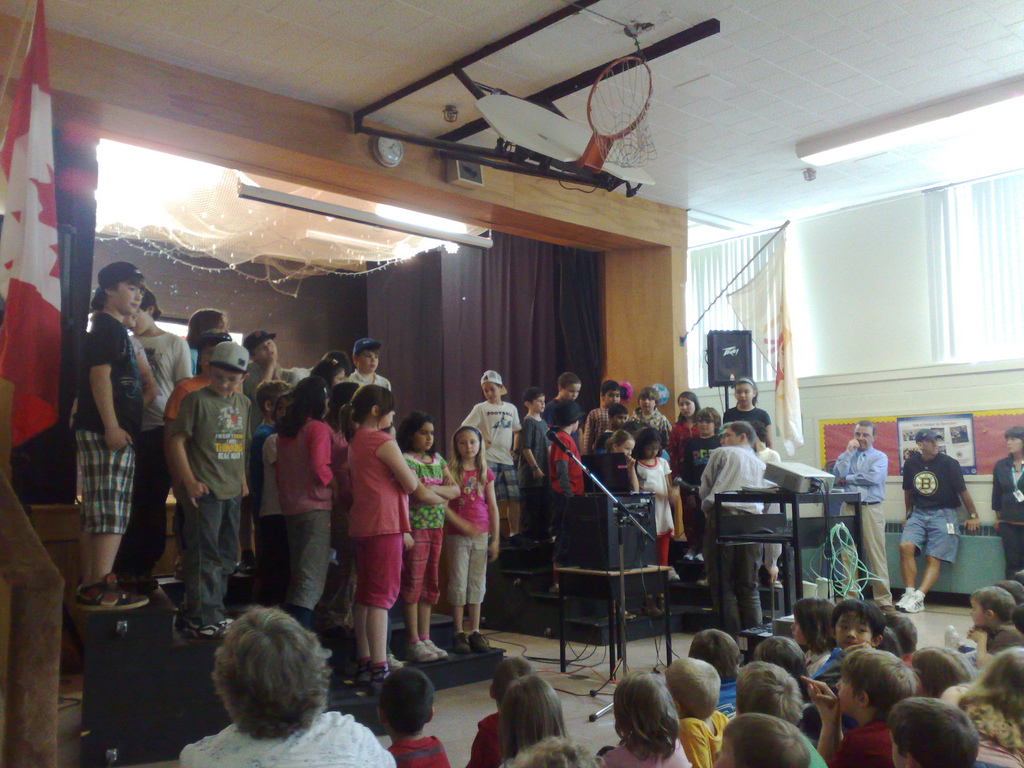 It turns out everything they say is true: the assembly was a panorama of heartfelt cuteness, with classes singing songs (including two versions of Thank you for being a Friend and a rendition of With a Little Help from My Friends that cleverly omitted the line "I get high with a little help from my friends"), slide shows of kids and volunteers, and various and sundry words of thanks to all the volunteers who work in the school throughout the year. Tears did indeed appear in the corners of my eyes.
And Philip Brown got recognized. Those of you who only know Philip from his role in municipal politics may not know how deeply involved he is in the life of Prince Street School; he truly does go above and beyond the call of duty, and it was good to be able to thank him for his efforts (no matter how you feel about Philip, you may welcome the opportunity to come to the Prince Street School Spring Fling next Friday from 5:30 p.m. to 7:30 p.m where you can take a try at plunging him into the dunk tank!).