If you've got a Mac and an Asterisk-based phone system, I highly recommend you check out Telephone, an open source OS X "softphone" with the following design philosophy:
I don't know why they think you should like a mobile phone interface on your computer.
Which is, I assume, a shot over the bow of softphones like X-Lite. And, true to those words, here's the simple UI: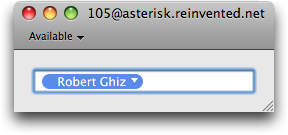 I've been trying Telephone out for a few days on long conference calls. Other than not being able to figure out "flash the switch hook" to be able to transfer calls (it's a feature request), it's performed flawlessly, and has enabled me to switch away from Skype to live the headset dream.