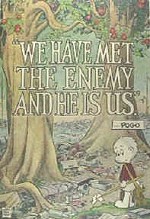 My brother Steve says that we've all grown older as a result of the "attack on America."
There is no joy to be taken from the death of so many and the suffering of so many connected to them.
But I am heartened to see that people are starting to look at why this may have happened. Not why in a "crazy whacked out terrorists" way, but in a "how did we create a world where this is possible?" way.
For example, Dave Winer says:
People don't sacrifice themselves for no reason. Let's find out what it is. And if we did something wrong (no doubt we did) let's apologize, ask for forgiveness, and then ask how we can do better. It's clear now that when we screw up we're going to feel it. And let's not waste the unity in the rest of the world. We now have the attention of the leaders of all the other countries. We've got to find a better use for it than use it as an excuse to unleash our anger through military force. (read more)
And Michael Moore says this:
We fund a lot of oppressive regimes that have killed a lot of innocent people, and we never let the human suffering THAT causes to interrupt our day one single bit. We have orphaned so many children, tens of thousands around the world, with our taxpayer-funded terrorism (in Chile, in Vietnam, in Gaza, in Salvador) that I suppose we shouldn't be too surprised when those orphans grow up and are a little whacked in the head from the horror we have helped cause. (read more)
Maybe we are all so angry because we know, deep in our heart of hearts, that we are at least partly responsible for letting it all come to this. As it says in The Pogo Papers:
There is no need to sally forth, for it remains true that those things which make us human are, curiously enough, always close at hand. Resolve then, that on this very ground, with small flags waving and tinny blast on tiny trumpets, we shall meet the enemy, and not only may he be ours, he may be us.
So maybe we have grown older. But this doesn't mean we have to sink on the weary weight of age: maybe this means we can take the maturity of age and use it to good end.