Miracle of miracles, after a long and exhausting day yesterday, Oliver and I managed to get ourselves up and out the door by 9:30 a.m. this morning, destination: Stuart Little.
We raced over the draw bridge and caught the Metro with seconds to spare. By the time we we arrived at the Casa da Música 30 minutes later, it had started to rain; we happened upon a taxi, asked him to take us to the Hotel Impanema Park, and were glad we did when it turned out to be just a little more than too far to walk, rain or no.
This morning's programme — a screening of Stuart Little with sundry crafts activities surrounding, and a Happy Buffet to finish — was organized by the intriguing Associação para a Medicina, as Artes e as Ideias — the Association for Medicine, Arts and Ideas. Upon arrival at the hotel we were greeted by AMAI co-conspirator (the ebullient) Cristina Basto, lucky for us an English speaker, and she gave us the lay of the land. When she told us the film was to be screened in Portuguese — something, truth be told, I'd foolishly never considered — I calmly acted like I knew all along.
And so I've come to think that the test of a good childrens' movie is if it can hold the attention of kids, and their parents, in a language they don't understand at all. I'm happy to report that Stuart Little meets this standard; but for some confusion about the identity of the strange kidnapper mice who spirited Stuart off to the mini-golf course hideaway, both Oliver and I got the whole thing. I was especially happy that it was a bona fide film presentation, with real film and a real projector; nice to see that video projection hasn't completely overtaken the world yet.
While we had planned to leave once the film was over, Cristina invited us to stay for the aforementioned Happy Buffet. This turned out to be a very kid-centric spread of soup, rice, potatos, hamburgers, fish cakes, sausages, potato chips, brownies, chocolate mousse, fruit salad, and a Stuart Little cake, all for 10 EUR each. Suffice to say Oliver and I got our money's worth and Oliver, being ebullient in his own way, worked the room and managed to introduce himself to almost everyone (including Cristina's husband Filipe and their two children), find out their names, and in some cases explain the intricacies of his jean jacket to them.
By the time we emerged into the drizzly afternoon at 2:00 p.m., we were well fed and happy and feeling that, as long as there are people willing to organize Sunday morning movies with Happy Buffets, all is right with the world.
Catherine rang in on the mobile to announce that she'd decided that she wanted to join our caravan of fun at this point, so we arranged to rendezvous at Fundação de Serralves where we'd had so much fun on Thursday. Catherine hopped on the 500 bus and Oliver and I, after buying an umbrella to ward off the rain, ended up walking for 5 blocks in the wrong direction before seeing the error of our ways and hopping on the 207 bus that took us almost to the Serralves front door.
By the time we hooked up with Catherine, the sky was blue and the sun was out and it was a beautiful, beautiful day. We started our visit where we'd left off on Thursday with a visit to the Casa Serralves, a mid-twentieth century home filled with art deco treasures the likes of which you seldom see all gathered together in one place: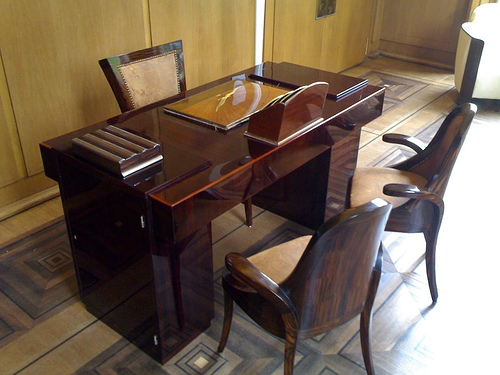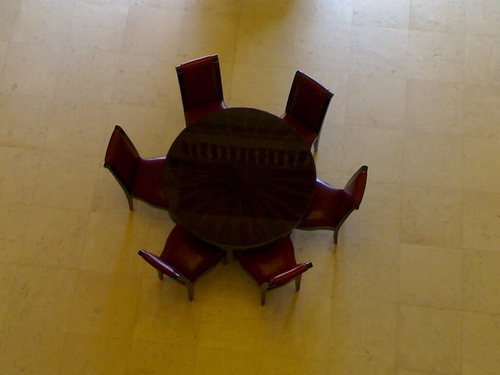 We learned later that the entire collection in the house is owned by one collector. We wanted to move in. At the very least, I think I should have T-shirts printed up with "Bring Back Art Deco Now!" on them.
Famished by all the fab art deco action, we headed down to the mid-park Tea House and enjoyed tea served in beautiful china, warm scones, smoked salmon sandwiches and a piece of chocolate cake, all under the newly sunny skies. While Catherine and Oliver ran off to order the cake, I pulled out my mobile and had a brief instant messaging exchange with Olle up in Copenhagen, readying the ground for the next leg of our trip while still basking in the glow of the first one.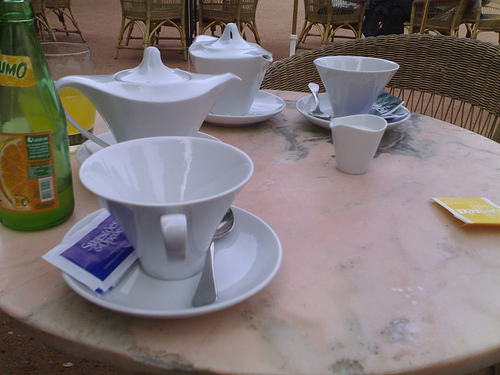 Before leaving Serralves for the day, we popped in to the book shop (if you are ever shopping for architecture books, this is the place: they have a very broad collection). Catherine and Oliver ran upstairs to the washoom, and while they were waiting for me to arrive, who should they run into by the aforementioned ebullient Cristina Basto, now ferrying around North Carolinian visitors. While in most cases bumping into someone like this would strike me as an amazing coincidence, life with Oliver is full of such things; his social aura is great.
Filled with art and tea and chance encounters, we hopped back on the 207 bus and took it down to near the mouth of the Douro and had a very pleasant walk along the waterfront towards the ocean. Along the way we got caught in a sudden downpour; our dampness was rewarded with a series of stunning rainbows over the city: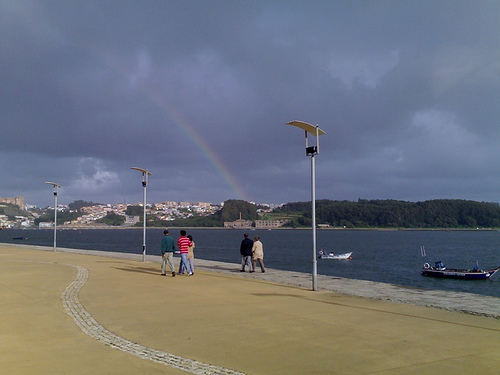 We finally reached the end (or is it the beginning?) of the Douro, and we turned right towards Matosinhos, stopping at the first restaurant we met, which happened to be a fondue place. Catherine has been wanting to pull me into her fondue cult since we met 15 years ago, and her dreams were finally realized; we shared a tasty meal of shrimp, bacon and cheese fondue followed by dessert of chocolate fondue (making Oliver's chocolate intake for the take about 16 gallons). My only misgiving about the fondue lifestyle is fear of boiling oil spilling all over Oliver; I was running emergency extraction manoevers through my head throughout the meal — oil spills, I lunge in front of oil protecting Oliver, etc. Fortunately I never had to put them into action.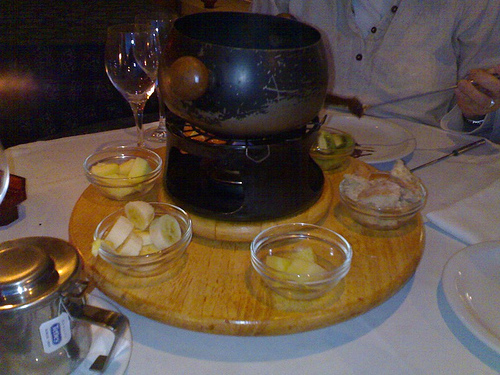 We finished off the evening by walking through to the end of the Esplanadas da Foz, and caught the handy 500 bus all the way back to where, 12 hours earlier, we'd begun our day.
And we thought we were exhausted yesterday. Way too many photos for my own good if you're interested.