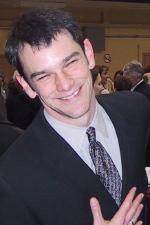 I made the mistake of listening to Island Morning on CBC Radio this morning from 8:25 to 8:30 a.m. and heard plenty of banter between host Karen Mair and news presenter Andrew Sprague related to some sort of "road trip" that Andrew is about to take. But I missed the back story, so it was all very confusing.
I made a quick call up to the station just now, and found that Andrew is about to head off across the country to parts unknown.
I'll miss Andrew's dulcet tones every morning on the air, and I'll especially miss him at the New Year's Levies come January.
Rock on a travel well, Andrew. We'll be waiting for your triumphant return.
Update: Andrew himself just called: he'll be back for Christmas, and the Levies; no worries.