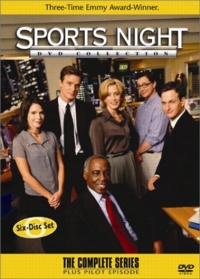 Back in March I wrote about Sports Night, a show on ABC that ran from 1998 to 2000. At the time, the boxed set of the complete series had just been released. Last night I was able to rent it for the first time from That's Entertainment (our gem of an independent video rental store here in Charlottetown).

And last night, in an irrational display of stayupitude, I watched 9 episodes in a row, starting from the Pilot.

I was as compelled — maybe even more so — by the second viewing as the first. This is truly great television.

Am I deluded? Am I the only one that thinks the Sports Night raised the bar for situation comedies, and that nothing else since has come close?

Today, as Catherine is off in Orwell eating lunch with her weaving and spinning friends, Oliver and I have worked out a strict regimen of "one episode of Caillou, one episode of Sports Night," interspersed with house cleaning.