If you're a North River Road regular, you'll know that we're getting a The Home Depot in Charlottetown. Squeezed in between North River Road and the Wal-Mart. And leaving Sporting Intentions, the sporting goods store next door, dwarfed in the empty space inside the 'L' formed by the behemoth taking shape next door.

Oliver and I decided that we needed to support Sporting Intentions in their hour of need, so we dropped in yesterday and bought a Nalgene bottle (a bottle that Dan says in unbreakable and doesn't take on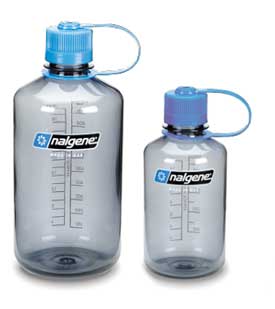 smells or odours of its contents, thus making it eligible for extreme testing by our small family).

We were well-served at the store: the staff-to-customer ratio, including Oliver as a bona fide customer, was 3 to 1. And the staff were helpful, witty, and willing to entertain and enhance Oliver's eccentricities (i.e. they all went to the back room to get their Nalgene bottles when Oliver asked, repeatedly, "where you bottle?").

Although I am unfortunately sedentary by nature, I do aspire to sporty greatness (something that will be put to the test next weekend), and I have a sudden urge to outfit myself with sea kayaks, winter-ready pup-tents, and all manner of mountaineering first aid equipment every time I go into stores like Sporting Intentions. We were lucky to escape with only a Nalgene bottle.

If you, as I, would feel like Charlottetown would be less of a place without great local retailers like Sporting Intentions, and you want to make a small protest against the incursion of Giant American Retail, perhaps you could do as we did, and drop in for a spot of Nalgene this week. Tell them we sent you. And tell them thanks for sticking in there.