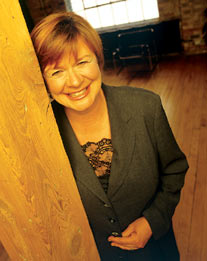 I have listened to dribs and drabs of the new CBC Radio One programme Sounds Like Canada and I like what I'm hearing.

The show's greatest accomplishment? Leaving the legacy of Peter Gzowski aside and cutting a new path.

The show's post-Gzowski predecessor, This Morning tried to be Morningside with a new theme song and different hosts. It thrashed around, but never found focus or comfort.

What is ironic is that Sounds Like Canada is hosted by Shelagh Rogers, the presenter perhaps most associated with the Gzowski era; perhaps it took a member of the family to throw away the past and come up with something new.

The show is not without its problems: the whole "let's put our ear up to the wall of Canada" metaphor is apt to run its course eventually (I hope). After all, one can only "listen in on the grade 3 class in Owen Sound making pumpkin pie" for so long before it ceases to be interesting. If it ever was.

And there's a disappointing holdover of features from the old era: the "franco-Canada for anglos" segment C'est La Vie ceased to be interesting long ago; holdovers like the children's book panel, while perhaps inevitable given their popularity, seem out of place and tired.

The highlights: Rogers out in the country interviewing people on the ground; the financial affairs mini-show That's Capital and the cooking/food segment Consicencious Kitchen; and the new segment The Listening Room, promoted this week and starting next, which promises to be the first regular incursion of radio art to reach a national audience, ever.

It's hard to be a regular listener: my day doesn't start until the show is well underway, and it's hard to be a deliberate listener when working, but I'll tune in as often as possible.