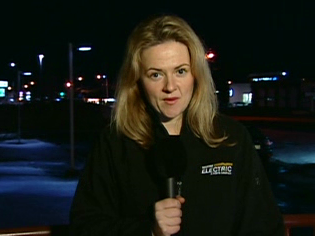 The power has been out in vast swaths of PEI this week because of an ice storm. We have been fine here in Charlottetown for the most part — our power has been out for no more than 5 hours in total — but in the central and western parts of the Island they have been dark and cold all week, and there are still 8,400 homes without power.
Maritime Electric, that provides electricity to the bulk of PEI, is obviously the focus of much of the attention here, and the public face of the company is Kim Griffin. She is doing a brilliant job, and anyone in the business of crisis management should take a page out of her book: she is honest, well-spoken, good at managing expectations, and, it would appear, able to exist without sleep.
Of course it's the crews out in the field, both from Maritime Electric and from regional power companies lending a hand, who are bearing the brunt of the back-breaking work. But by being the straight-shooting spokesperson for the company Kim Griffin is doing them all proud. Please, give her a raise.