Longtime readers will recall my detailed survey of the Nicholson family four years ago, in which I revealed how the various tentacles of the family surround us in a warm Island embrace.
Well yesterday, for the second year in a row, we got to see the entire clan gathered in one place. The occassion was young Shaw Nicholson's birthday, the place was King's Castle Provincial Park, that anachronistic enclave of concrete nursery rhyme characters in the verdant barrens of southern Kings County. And, like last year, it was the highlight of our summer social calendar.
Aspiring to truer Islanderhood, we pulled off the main highway to Wood Islands just the other side of Orwell Corner and hit Route 23, a straight shot to Wood Island that avoids all the twisting and turning of the shore route: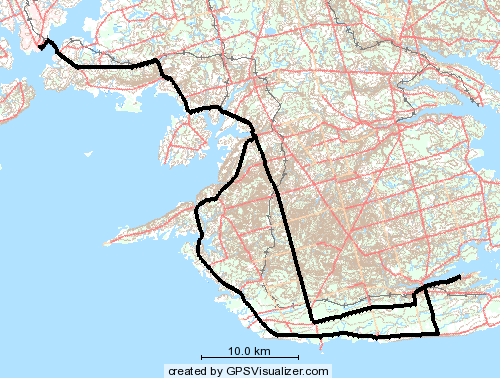 This would have been fine, of course, if we'd actually been going to Wood Islands. But we were headed for Murray River, and so as our L-shape route clearly demonstrates, we shouldn't expect to be hearing from the Islanderhood Commission any time soon. On the way back we hugged the shore, so as to not accidentally end up in Souris.
Words cannot do justice to the effect of so many Nicholsons, and Nicholsons-by-association, and members of the Nicholson entourage, all gathered in one place. They're all extremely generous people, and the effect for us was less like invading a sacred family ritual and more like being invited on in to join the family itself.
And they make a 3-bean salad that's to die for.
The afternoon was taken up with various birthday-related festivizing, punctuated by mandatory trips into the woods to visit the nursery rhyme characters:
The characters have been spruced up this year after some unfortunate vandalism; I'm happy to report that the sprucing didn't diminish their maniacal charm.
The delightful thing about Kings Castle is that, far from the centre of the tourism universe as it is, the park suffers from a very pleasant sort of neglect; nowhere else, I think, could you get away with a children's playground that includes attractions like this airplane: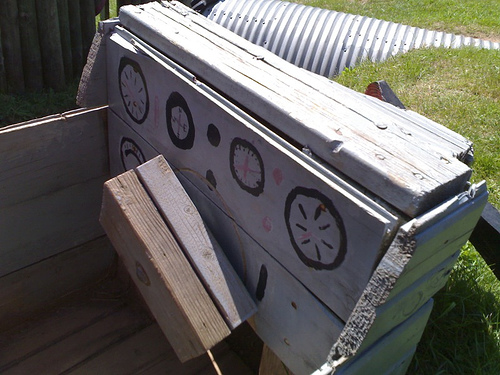 And yet attractions like that make the place so endearing.
Back at the party there were games for kids — the "everyone's a winner" kind that are in vogue these days — and food on the barbecue and birthday cake and presents. And an unusual number of small dogs. Even Rob Lantz was there.
Catherine told me that this is the second generation of Nicholson kids to have their birthday parties at Kings Castle (it was probably still called Fantasyland back then, before the big Disney crackdown). We were happy to be part of it.