The Guardian, Prince Edward Island's newspaper of record, has traditionally had a web presence that's lagged about 4 years behind current design and usability trends. This has improved a lot in recent months: they've got RSS feeds and Nigel Armstrong and user-generated content.
And now they're about to release a snazzy new digital edition of the print paper.
Their last try at this involved installing software on your machine and was more "hobbled PDF" than "leveraging web technologies" (although still nice to have access to when you're in Kathmandu).
The new version, branded Smart Edition, has much to recommend it: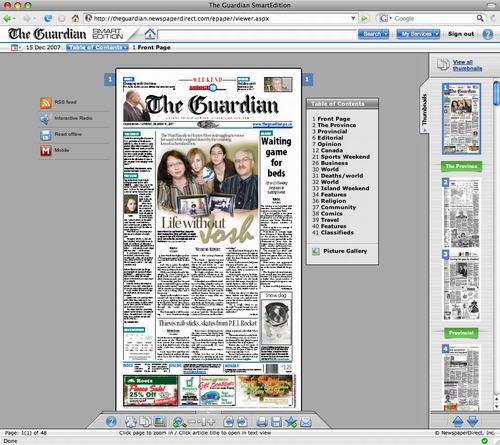 There's no extra software to install — it's a completely in-browser application. Among other nice features you'll find:
Integrated RSS feeds — links in the RSS call up pages in the Smart Edition.
Text-to-Speech — get any story read to you (with a not-bad-sounding robot voice).
Photo Index — a clickable thumbnail index of all the images in the print edition.
Full-text search — searches everything, including the text of classified word-ads.
Alerts — email alerts for keywords (they call this "Monitors").
Front Page by Email — you can sign up to receive the front page graphic by email as soon as it is published.
Offline Viewing — which does require installation of Windows-only application.
Mobile Edition — a mobile-optimized version of the paper is available (it works great on an iPod Touch).
Social Software Links — built in article links to Digg, del.icio.us, and built-in blog posting for Blogger, Wordpress and Livejournal.
Of course The Guardian didn't built all this out themselves — they're using NewspaperDirect technology. But kudos to them for realizing that it might be worthwhile to experiment with a modern feature-rich approach to web delivery.
The Smart Edition is currently in testing and isn't being officially marketed yet (although you'll find a "Today's Smart Edition" link on the side in the left-hand sidebar under the weather).