It's been a stormy day here in Prince Edward Island, most especially on the western end. We had a PEI Home and School Federation board meeting scheduled for this evening, but the bad weather put having a quorum at risk.
So we looked to Skype to pull the meeting off.
We tried this on a smaller scale last year for a subcommittee meeting, and it worked relatively well, and since that time Skype has made "Group Video Chat" free for all users (it was a paid subscription service until recently), so it seemed like a viable option. But we'd also tried to Skype a single director into a meeting earlier this year, and he got lost in the shuffle, so I was cautious.
In the end we had 12 of our directors who could make the meeting: 4 attended in person, in the board room at Casa Mia Café (generously donated to the cause at the last minute) and 8 people attended via Skype.
Of those eight, we called one person on the phone (with Skype), and one person was on an iPad, which only supports audio for group chat, so we had 6 people with video and audio, and 2 people with only audio.
The Casa Mia board room has a large 1080p Sony television mounted on the wall at one end of a board table; here's what it looked like when I was testing the setup with Catherine and Oliver via Skype: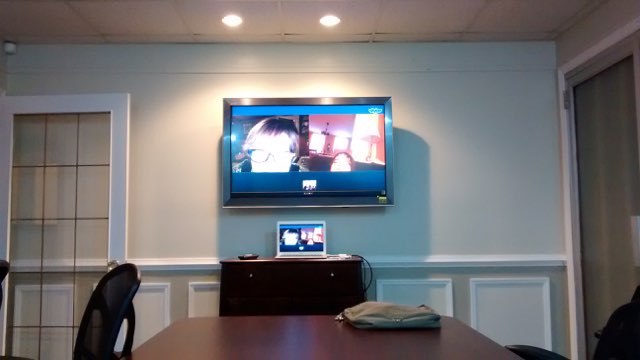 I used my MacBook Air, plugged into the TV via a VGA connector, to display Skype, and used the MacBook's internal microphone to pick up sound in the room (arguably the weak link in the system, as it was sometimes difficult for Skypers to here people in the room).
And it worked!
We held the meeting, which took about 90 minutes, and every one stuck in and it went, for most intents and purposes, like a regular board meeting.
Some lessons learned:
Leaving time for "rehearsal" before the meeting started was a good idea. 15 minutes before we were scheduled to start I called each Skype participant to verify that their setup was working, that we could see and hear each other. Now that those 8 people have done it once, we're better prepared for the next time.
It really helps to be "Skype contacts" with everyone that's going to be participating by Skype before the meeting starts because Skype appears to require that you're a contact before you can be added to a
Group Video Chat." This was a stumbling block getting started for a couple of people I'd sent contact requests to who hadn't acknowledged them: I had to re-send the contact request to get things rolling.
Skype isn't as good as Google Hangouts and GoToMeeting at showing the person who's talking in a larger video window: this "highlighted person" in Skype seemed to be selected at random and/or perhaps affected by the background noise in the remote locations. This wasn't a big deal, but if it had worked better we sometimes would have been clearer who was speaking at any given point.
If someone on Skype starts speaking, it's hard for them to hear anyone else speaking, which makes "are there any other questions about this" style requests for comment a little more difficult to handle because people end up talking over each other.
The single best thing we did was to make sure that everyone in the room talked toward the MacBook, and spoke loudly and clearly.
I was chairing the meeting, and stopped twice just to check in and make sure that everyone on Skype could still see us and hear us and to take a "roll call" of sorts to make sure nobody had dropped out.
Having the large TV was a big help: if everyone in the room had to gather around a tiny laptop screen it wouldn't have worked.
By holding the meeting via Skype we were able to avoid 3 people driving from Summerside, one person driving from Souris, one person driving from Crapaud and one person driving from up west, so in addition to making the meeting possible, we also saved a lot of driving and a lot of people's time.
It all worked well enough that we might consider making the option a regular part of our board meeting routine.