Longtime readers will recall that a regular feature of our small family's travel exploits is forgetting to eat. Or eat least leaving the eating for far too long. Today was no exception.
We started off so well: with a tour of the Kröller-Müller Museum planned as the central element of the day, I lobbied for an early lunch so as to take in the van Gogh et al on a full stomach. The family rallied around this idea, and so we enjoyed a heaty lunch of "maaltijdsaladesat" – it's a meal, in a salad! – at Monsieur Jacques, the museum's busy café. We were fed and heavy into the Vincent by 12:30 noon.
Three hours later, with our minds full and our hearts satisified, I hopped on one of the free white bicycles and dashed back over to the nearby park visitors centre to pick up our van, returned to pick up Catherine, Oliver and Ethan, and we were off, leaving our two days Nationale Park De Hoge Veluwe behind us with happy memories.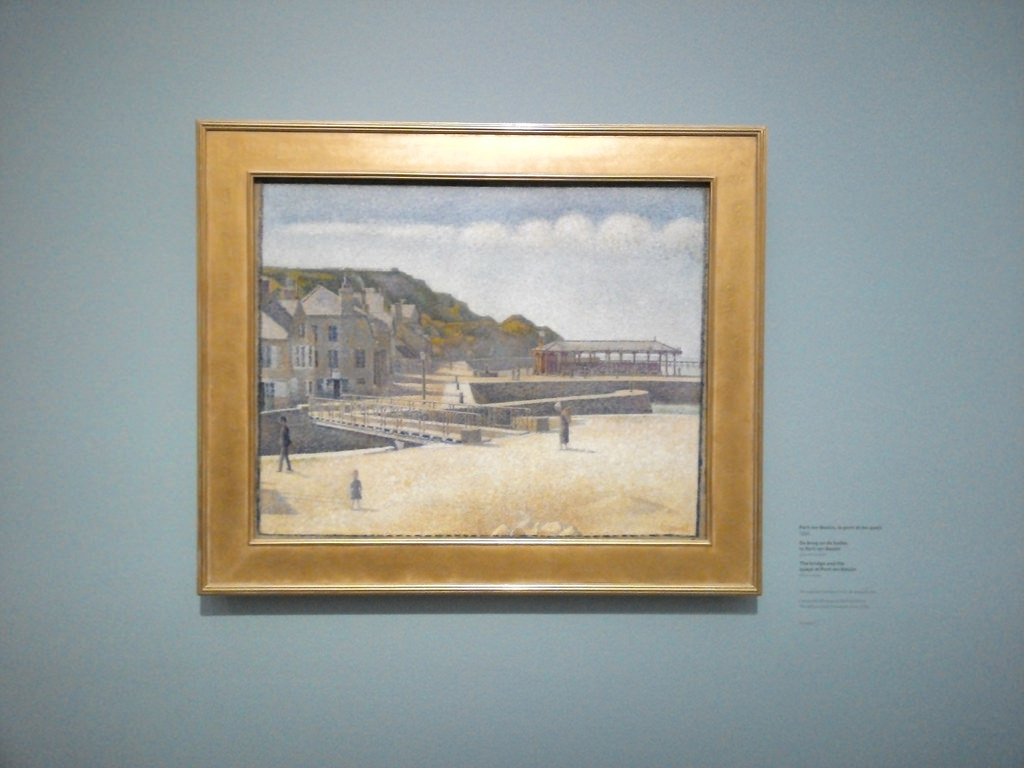 We've been navigating around the Netherlands using a combination of my phone's Google-powered navigation app (when I have a SIM that's data-enabled), notes scribbled into the sides of brochures from a morning fill of wifi (when I don't have mobile data) and by the seats of our pants (when all else fails). Today was a little bit of each: I eked out a little wifi on the way out of the park, scrawled down a few notes, and we knew the general direction of our trip to the watery region of Maasbommel (choosen as today's destination because we both fondly recall a documentary watched years ago on its amphibious houses).
Unfortunately, this ad hoc approach to navigation failed us today, and we ended up on more than one "oh, that was the wrong turn – and there's not another exit on this highway for 35 km" misadventures.
And so a promised 59 minute trip quickly stretched into a couple of hours.
But every unwanted diversion has a payoff, and so we found ourselves sailing across the river Maas on a tiny ferry built for a half-dozen cars: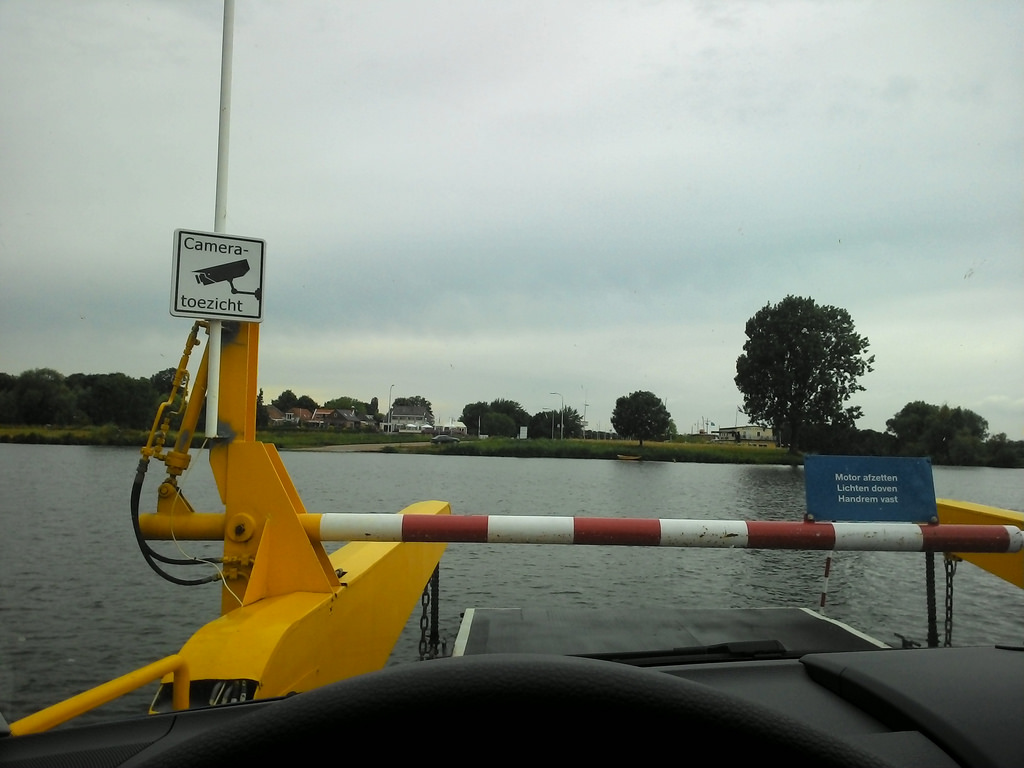 While the high of unexpected water-journey was enough to keep us out of catatonia temporarily, soon the skies opened up with rain, and the struggle to find a campground took over, and that early lunch started to look foolhardy as it receded in the past.
We pushed on, however, and resolved, once our campsite was secured, to find a grocery store and restock the van's pantry.
This too was easier said than done: we found a sign for "Supermarkt," followed it, but none manifested. We reversed and still found nothing. Finally we spotted a man walking along the road; we slowed, Catherine rolled down her window.
"English?", she asked, tentatively.
"Deutsch!", he proclaimed.
"Supermarket?", I asked, thinking this a universal enough term.
The man then proceeded to recite directions to the village supermarket in German.
At the conclusion of which we thanked him heartily, rolled up the window, looked at each other in surprise and the simulataneous realization that we're understood absolutely every word he's said. Despite knowing only 10 words of German between the two of us.
Wordlessly we followed his directions to a T, and five minutes later I was in the grocery store buying yogurt, bread and pasta.
Our campsite, available for a single night only, alas, is right on the side of the same body of water we'd crossed earlier in the day by ferry, looking out at a collection of ducks and geese and with the sounds of water lapping at the shore to lull us to sleep.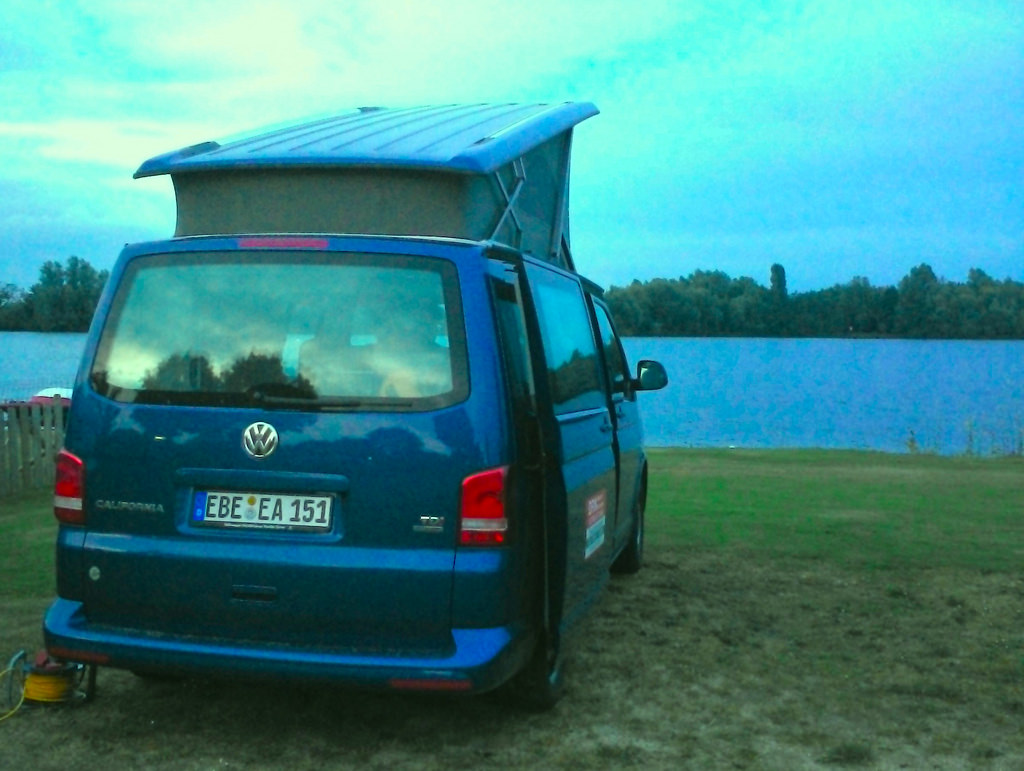 Tomorrow we're on to Utrecht.