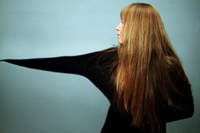 On my car trip home from Sackville, NB last night I listened to Radio-Canada's excellent jazz program hosted by André Vigeant. One of the songs they played last night was a Sidsel Endresen interpretation of the Police song Shadows in the Rain, from the Christof Lauer & Jens Thomas album Shadows in the Rain: The Sting Project. It took a little detective work to find this out — the playlist tool on the SRC website didn't have last nights show available, so I worked through the artist list on the show website.
You can listen to a clip of the song here (and a clip of the original Police version here).
Sidsel Endresen is a Norweigan jazz singer with a fantastic voice. If you'd like to hear her in person, you can catch her on May 23, 2008 at the Panorama in Eidsvoll. The Jazzland Recordings website has a lot more information on her other recordings.