One of the nice things about Pen Night is that it is, by its very nature, self-documenting: as pens get passed around, inks tried out, tips shared, my notebook fills up with a cacophony of penliness: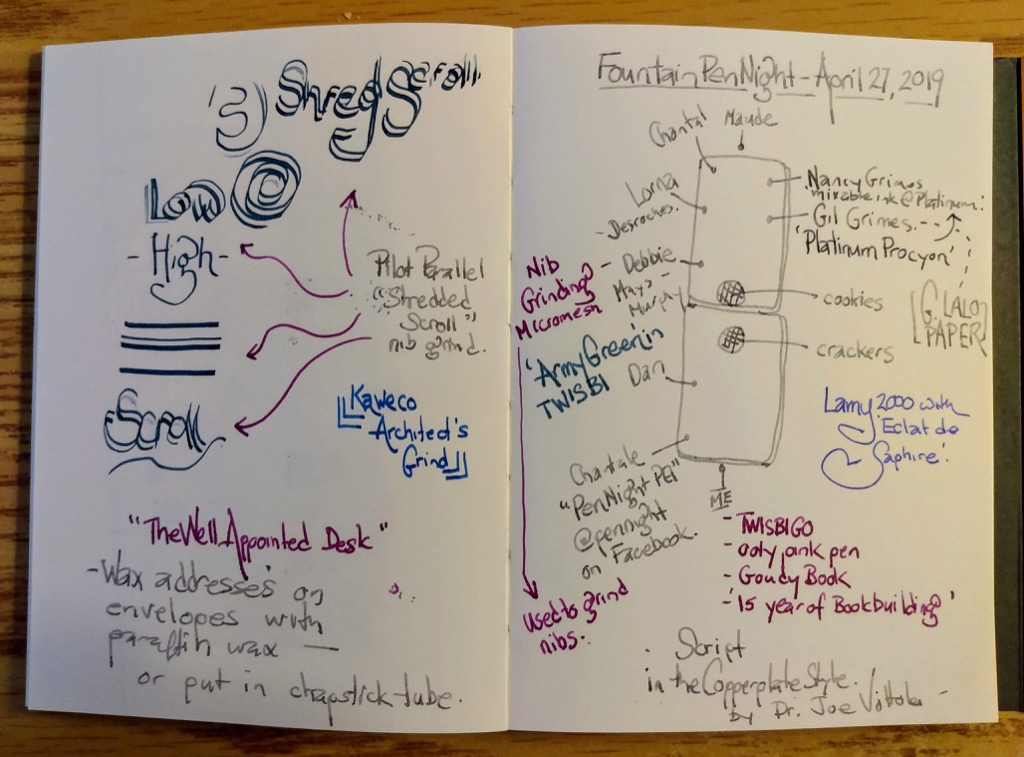 We were a smaller by still-hearty group last night, with members from as far away as Victoria West. Some of the things I took away from the evening:
When addressing an envelope with a fountain pen, rub a stick of paraffin wax over it once the ink is try; this will prevent the ink from running if the envelope is exposed to moisture (hard to avoid on a rainy day with the community mailboxes here in Charlottetown that have a tiny mail slot that attracts drips). You can put paraffin in an old Chapstick tube and throw it in your back for use on the road.
The free Apple Books book Script in the Copperplate Style, by Dr. Joseph M. Vitolo, comes recommended as an introduction to calligraphy.
The Lamy 2000 is a very nice pen (many pen-people's favourite, I was told); I got to try one one and it is, indeed, lovely and light and a joy to write with.
A pointer to The Well-Appointed Desk blog.
G. Lalo paper is delightful.
Pen Night has a Facebook page now (which, alas, I'll never see).
The next meeting is Saturday, June 1, 2019 at 7:00 p.m. at The Bookmark. All are welcome; RSVP to Dan MacDonald at The Bookmark if you're coming to ensure there's a chair for you.