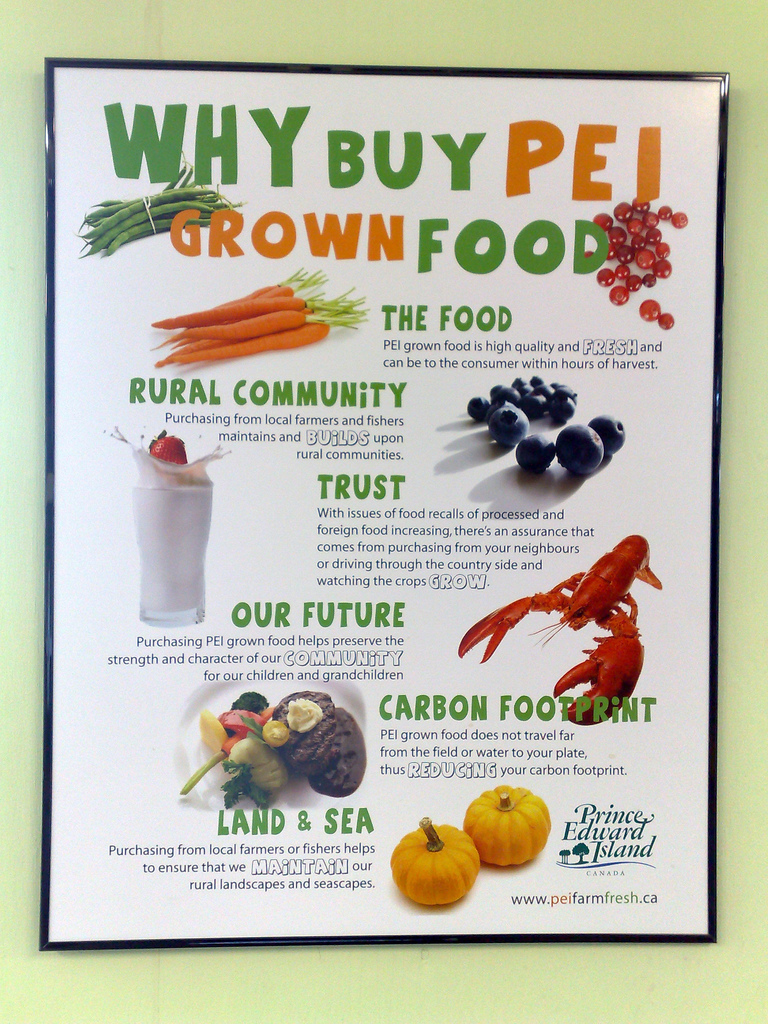 There's an interesting conversation playing out among Dave Cormier, Rob Paterson and me over on Twitter about buying local food, and how easy it should be. Dave started things off with an insightful blog post about how difficult he found it to find local farm sources of food, something that later led him to create a website designed to help solve this problem.
A slice of the conversation today surrounded whether it should, in fact, be easier to find local food. Dave and Rob are of the "we need a website that makes it easy for farmers to communicate to customers when the food is ready" opinion, and I, in short, am not.
Here's why.
Every Saturday for almost as long as Oliver has been alive we've been going to the Charlottetown Farmer's Market. One of our mainstays at the market is Kim Dormaar's smoked salmon. And in the winter and spring the stand beside Kim's is Taylor's Taters, selling potatoes, carrots and other root vegetables.
When we first started stopping by Kim's for salmon Oliver was small enough that he was in a stroller or in my arms. Eventually he grew tall enough to stand on his own and one day Garth at Taylor's Taters, seeing that Oliver wanted to be closer to the action, came over and cleared away a spot on his stand where Oliver could climb up and get eye-to-eye with Kim and the salmon.
That space has been there for Oliver ever since, and when it's not you can rely on Garth to hurry around and clear away the potatoes or the carrots for Oliver. And when Garth and Peggy take the summer away from the market (to grow potatoes), the organic greens operation that takes their place has helpfully carried on the tradition.
Over the years, as this tradition cemented itself, and we've gotten to know Garth and Peggy a little more, we've started to buy potatoes and carrots and the occasional turnip from them (Garth, bless his heart, is prone to sticking a free bag of carrots in Oliver's hands when I'm not looking). A few years ago Oliver started bringing them a Christmas card, and they returned the favour by always making sure he had a candy cane before leaving.
Earlier this year Garth told me that this would likely be his last year at the market, as he was putting the farm up for sale and not sowing a crop this season; later in the spring he told me, with a smile, that he'd decided to continue on for at least another year. And when I blogged that there was only a week left to get their potatoes before they left for the summer, Garth told me there was a minor rush of customers that week who told him they're heard the word through that blog post.
Now I couldn't tell you Garth's birthday, or even, for that matter, where his farm is. I don't know anything about his family, or how he got into farming, or how he grows potatoes. Island friendships take a long time to forge, and me and Garth are still in the early stages. But I can tell you that I unreservedly trust Garth and the food he produces. I know that when Garth is harvesting his crop this fall, somewhere in the back of his mind will be the thought that, among the thousands of other people, Oliver will be eating those potatoes for supper this winter.
It's taken more than 5 years for us to get to that point, and I don't think there's anything we could have done to get to the place we are now any quicker: trust takes time.
I could tell you similar stories about Kim and his smoked salmon, about Brett and his coffee, about the smoothie guys, about Karin La Ronde and her iced tea, about Lori and John and their perogies: they are all an important and trusted part of our lives, and our relationships with them have taken time.
Surely this is exactly what's at the heart of "eating locally," isn't it? Yes it's partly about "food miles" and "carbon footprint" and bioregionalism, but at the heart of the matter is trust and trust isn't something you can get from a website or a directory or a toll-free "where can I get local potatoes today" hotline. Trust takes a long time to simmer, needs to be fed from both sides, and is, in essence, the "product" that local farmers are selling.
I'm not saying a "who's got the rutabagas this week?" directory wouldn't be a useful, practical tool when you're jonesin' for a local rutabaga. But if we really want to live out the dream of buying locally, then it's going to take a lot more than that, and a lot of what it's going to take comes to simple analog friendships built out over many years. That's hard, sometimes frustrating (especially when you're newly arrived in the community and it seems like a private club of insiders), but ultimately it's the one thing that the food-as-cheap-commodity folks can never compete with.