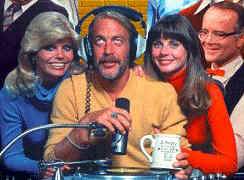 Here's something I've never understood: a lot of sitcoms start off life with well-crafted, witty, clever opening credit sequences. Think of Spin City with its spinning manhole cover, or Ellen with it's "we're too good for credits," or The Drew Carey Show with its Cleveland Rocks musical number.

Inevitably though, after a season or two, they almost all revert to the standard "theme song played over a montage of old episode highlights" style credits.

Why is this?

Is there evidence to suggest that viewers are more likely to stick around for a new episode if reminded of the wacky hijinks of episodes gone by?

The saddest example of this phenomenon is the change in the WKRP in Cincinnati opening, which started off with the classic "tuning the AM radio dial" sequence, and then took a sad slide into the standard montage.

I welcome the theories or explanations of others wiser than I…