About a year ago the Restore an Acre initiative of the Macphail Woods Ecological Forestry Project came to my attention. There was something about its simple, direct, well-executed approach to forest restoration that struck a chord with me, and so I became a supporter, making a $200 donation, in honour of former PEI premier Alex B. Campbell, who had been much on my mind last fall.
This weekend there was a walk through the forest that's being restored – the Selkirk Road Public Forest – led by the project's personable and enthusiastic leader Gary Schneider.
It was a damp, overcast afternoon, but a sizeable crowd of Restore an Acre supporters turned out and, over the course of three hours we headed from the Selkirk Road entrance deep into the woods, passing from the formerly-farmed front section into the sections at the rear that, among other things, sport large hemlock trees that, if you're not used to them, seem completely out of place on Prince Edward Island.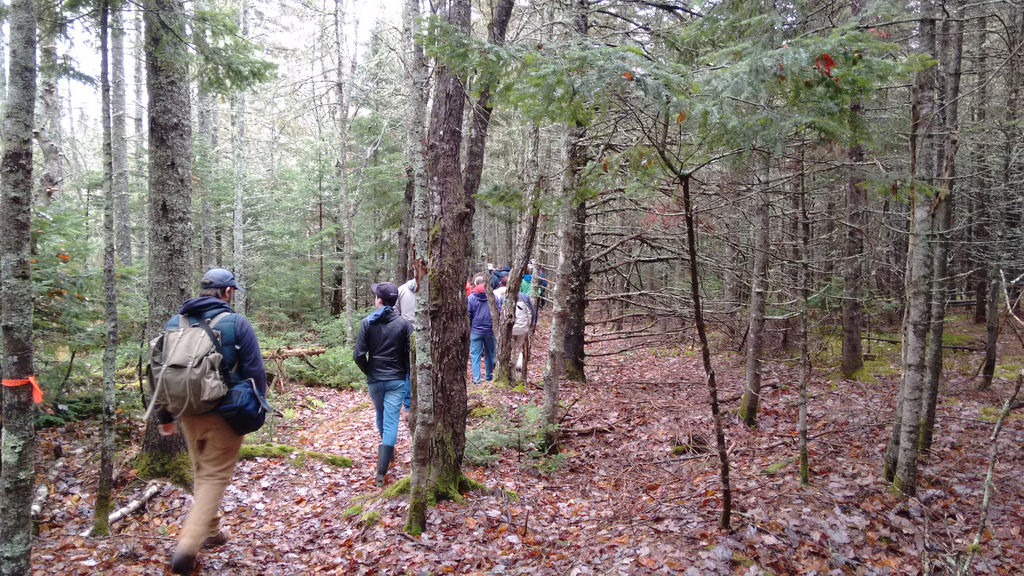 Never missing an opportunity to map a new part of Prince Edward Island, I had GPS Logger running on my Android phone during the walk, and yesterday I turned the traces I'd gathered, along with data traced from the satellite view, into OpenStreetMap. There's still some fine-tuning and enhancement to do, but here's what the map looks like after my update:
The Selkirk Road is well-known to many Islanders as the fast run from Charlottetown to the Wood Island Ferry. Next time you're heading to or from the ferry and you're in need of a walk in the woods, I encourage you to take a hike through these woods. And, of course, there are still acres waiting to be restored.