I bought myself a Logitech C930E USB webcam yesterday at Best Buy; my friend and colleague Ton Zijlstra is joining my Philosophy 105 class tomorrow via Skype, and I needed a way for him to be able to see the classroom and its students that was better than the built-in webcam on my MacBook Air, which has a field of view of only 38 degrees.
The C930E has a field of view of 90 degrees, and, because it's an external camera, I can move it into the best position, mount it on a tripod (it has a built-in tripod mount) and hook it up to my Mac with a long USB extension cable.
I've been testing the camera for the last 24 hours to get used to it, and this has resulted in some interesting still photos (taken using the Photo Booth app that comes with every Mac).
First, this photo of Oliver and I taken yesterday afternoon in our living room.
I hung the webcam from the top of the curtains at the front of the room. Oliver's standing on a footstool, which is why he seems so much taller than I am. You can see Ethan in the background skulking away before he's called to appear in the photo. And, most importantly, you can see almost our entire living room and dining room. The photo weirds me out every time I look at it because it's a view I never see otherwise (both because it's from an unusual perspective, and also because when Oliver and I are in photos together it's either because Catherine has taken them, or they are close-range selfies).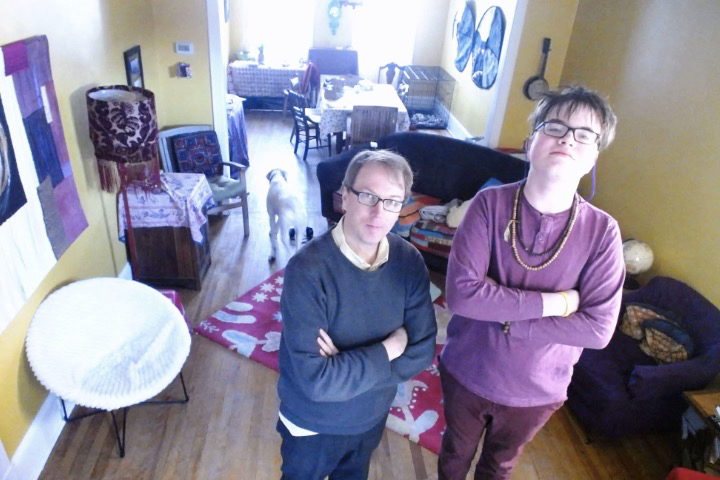 Here in the office, this afternoon, I moved the camera, on a tripod, as far from my desk as possible, in front of the window looking back, and took a photo of myself in front of my workstation (a MacBook Air connected to an Apple Cinema Display on a Humanscale M8 monitor arm. You get a good sense from this photo of the digital (left) and analog (right) sides of the Reinventorium. Computers on the left; metal type on the right.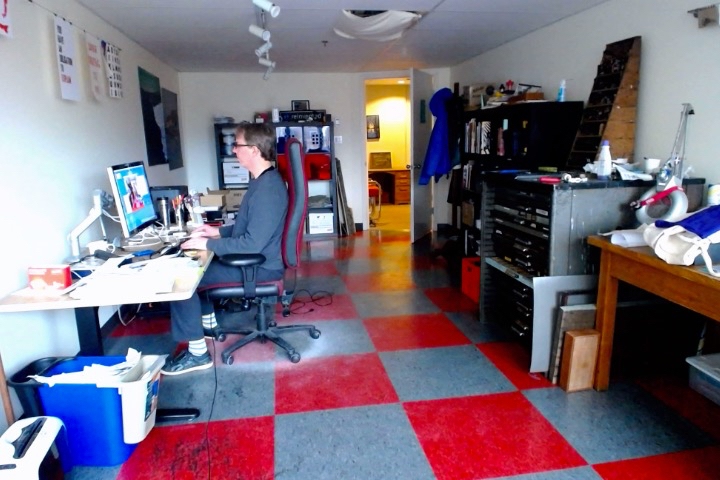 I sent someone an email about ergonomics this week and in it I wrote, in part:
I highly recommend seeking outside support, especially regarding more general workstation-setup issues, as it's almost impossible to diagnose and solve these yourself, mostly because you can't see yourself working.
It turns out that, with an external webcam like this, that isn't entirely true.
For example, here's two photos a snapped with the camera a little closer to my workstation.
In the first one I realized (because I'd overcome the problem of not being able to see myself working) that I'm craning my neck a couple of inches forward when I'm working in my "natural" position: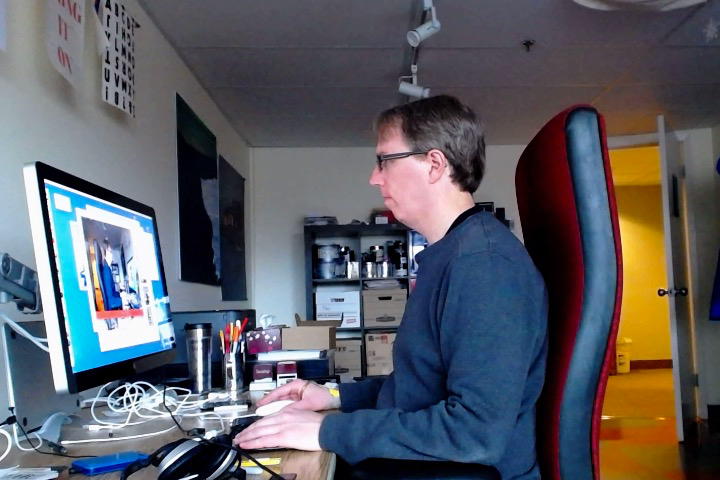 If I adjust my posture slightly, and stack my head on top of my spine, I immediately notice a relief of pressure in my typing hands (because I'm not subtlety leaning on them), and a decrease of tension in my neck and shoulders: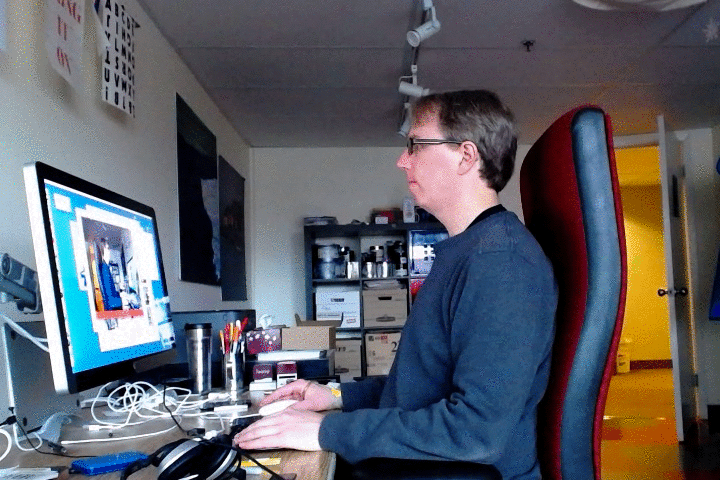 This revelation causes me to wonder whether I should have a live view of my workstation beamed to my screen so that I'm always more conscious of my ergonomics. If I beamed it to the web, in fact, I could ask my ergonomics person to pop in every now and then for a spot check.
I'll report back tomorrow afternoon after class as to how the webcam works in a classroom environment.