The silver lining in the rain clouds that have hung over Iceland since we arrived has been rainbows. All over the place. So many rainbows that we stopped taking photos, even though they were spectacular: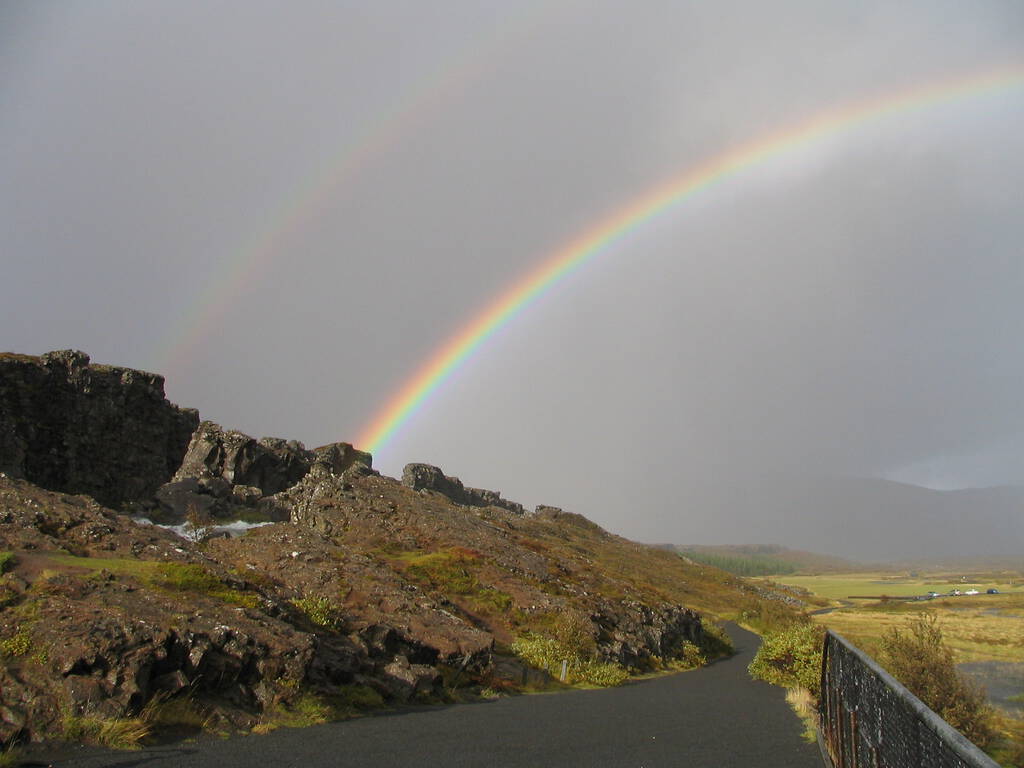 It rained all night last night, hard and steady. It was raining when we went to breakfast, and raining when we left breakfast. But, miracle of miracles, it was bright and sunny 30 minutes later when we headed out of Frost and Fire for the last time (capsule review: very nice guest house in an amazing location; recommended).
The sun made for a much better day, especially as it was the one we set aside to see the triple crown of Iceland's tourist attractions: Geysir, Gullfoss and Þingvellir.
From Hveragerði we headed east to Selfoss and then north toward Geysir. The road, like all paved roads we've driven here, was well marked and in good shape. Along the way we passed through half a dozen geological wonders, and just before Noon we rolled into Geysir, the mother of all "really hot water spurting from the earth" natural wonders and the one that gave its name to all others.
Geysir itself has been dormant for some time; fortunately its sister Strokkur is right beside, and it goes off every 5 or 6 minutes in a spectacular display of shooting water: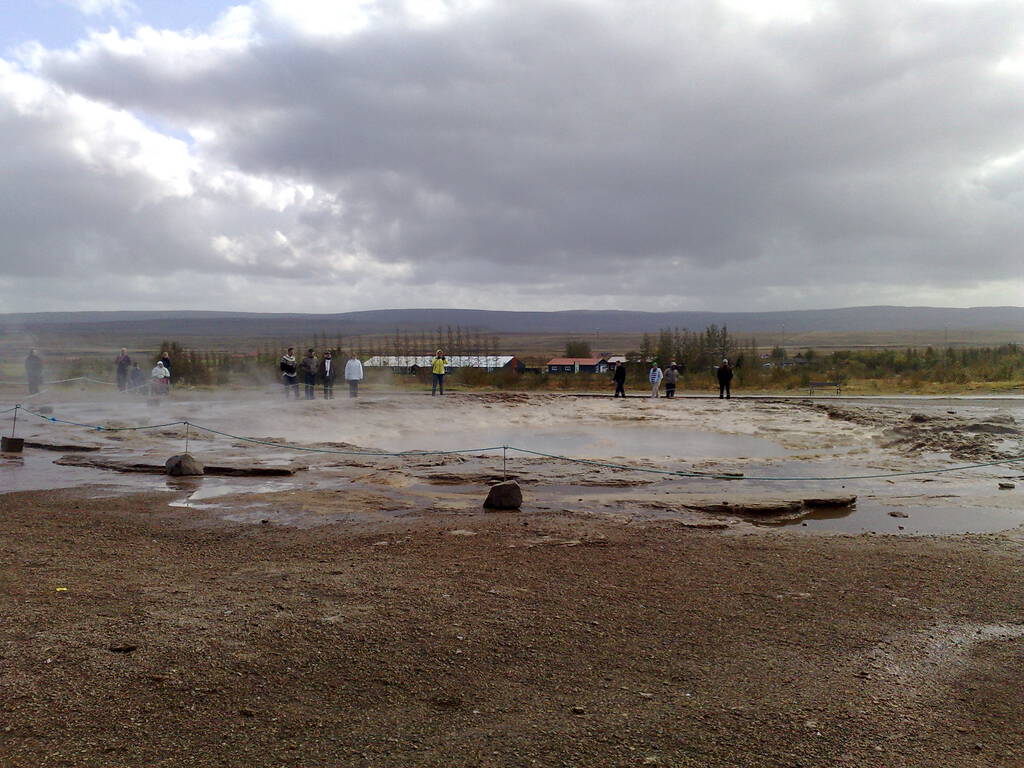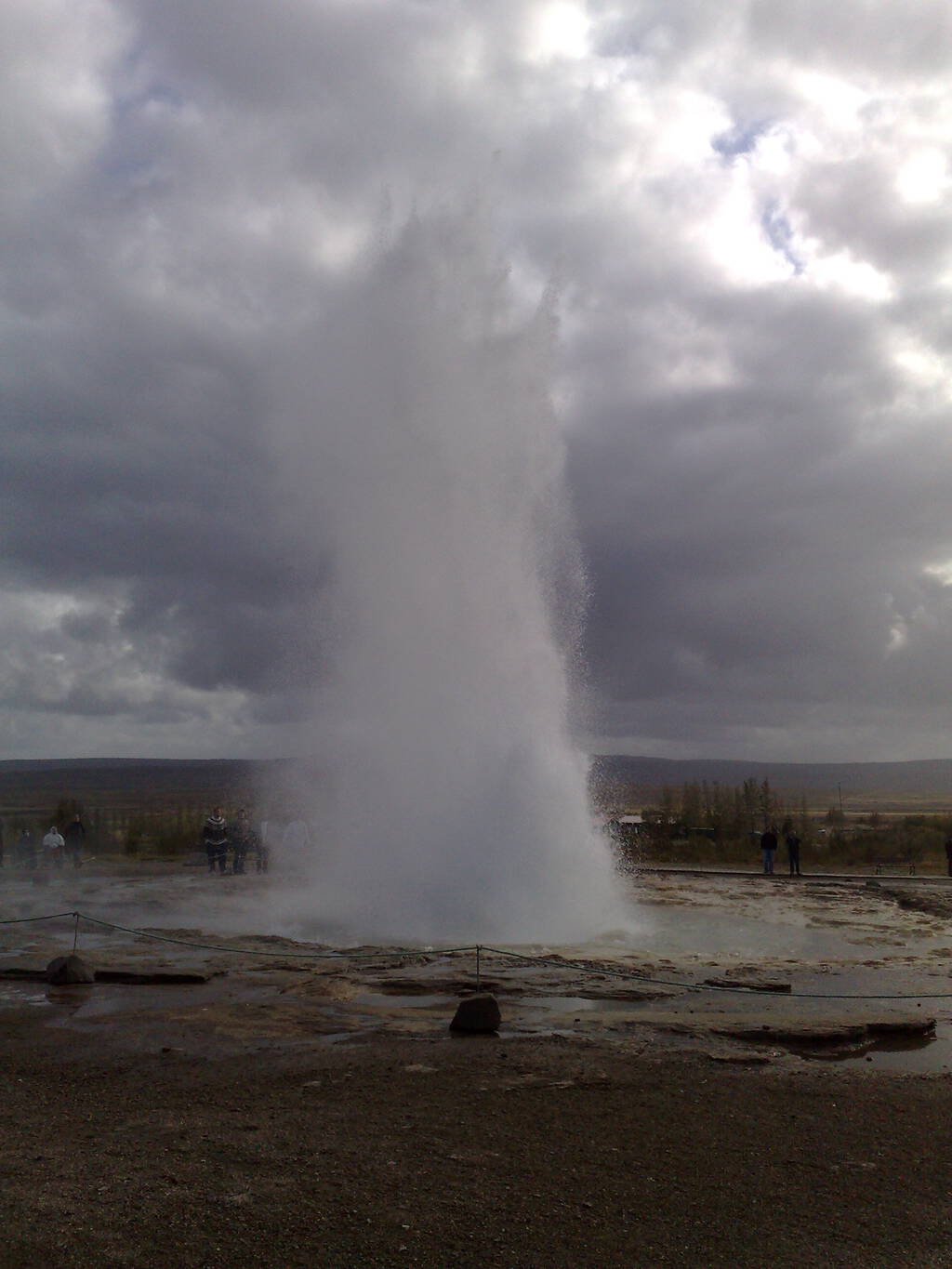 After a quick lunch of Northumberland Ferries-style pizza in the visitor centre, and a quick tour through the interpretive centre (not worth the 1600 krónur), we were back on the highway headed north to Gullfoss.
The same relaxed attitude toward public safety that we experienced yesterday with road construction carried on to the grand waterfall Gullfoss: the idea seems to be that if you are an idiot, you probably deserve to die, and they're not going to stand in your way. Which means that you have complete and total access to the waterfall, and can walk right up to its edge:
Children being children, Oliver announced that he needed to pee once we'd climbed all the way down the stairs from the hilltop viewing platform. Catherine, perhaps not so eager to go to the edge in any case, gamely volunteered to take him back up while I got as close as I, in my self-policing Canadian way, could manage while still maintaining proper safety protocols.
From Gullfoss we nipped back down past Geysir and then headed overland on gravel road 365 to Þingvellir, the spiritual heart of Icelandic government — an assembly was founded there around 930 and continued to meet there until 1798. It also happens to be located at the end of scenic Lake Þingvallavatn, and, if all that isn't enough, is the site of a rather significant rift in the earth's crust.
When we parked the car and started off down the path to see Þingvellir's sights it was bright and sunny. By the time we got 500m down the path a freak rain cum hail storm appeared out of nowhere and we got soaked to the skin. As a result, save for reading a few signboards and getting a general sense of the spirit of the place, our true Þingvellir will have to wait until next time. Even without the democracy and the continental drift, it's a pretty beautiful place: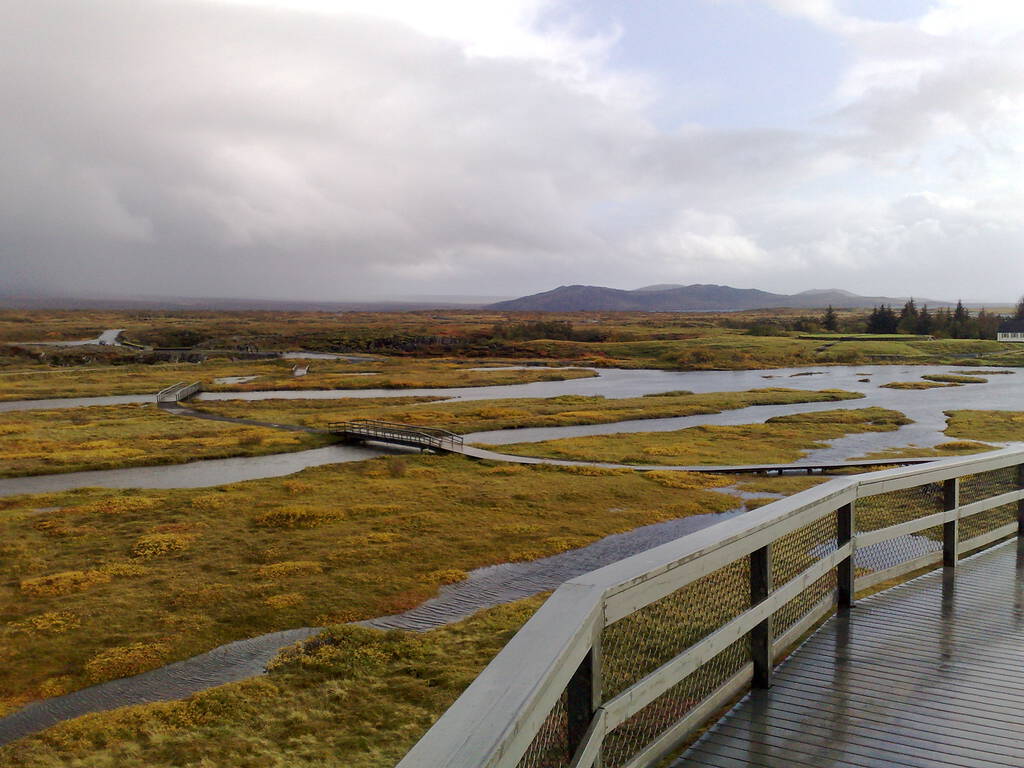 By the time we got changed into warm clothes we realized it was getting late, so we packed up and drove west to join the Ring Road, and then north, through a 6km undersea tunnel, through Borgarnes and along to Hraunsnef Country Hotel.
Hraunsnef is one of those places that has "labour of love" written all over it: it's a handcrafted hotel on a hill overlooking an impressive vista. There's a hot pot (Icelandic for "hot tub") beside a babbling brook, and a bang-up restaurant serving supper.
And for supper I had grilled salmon with garlic potatoes (excellent) and Catherine and Oliver shared an order of fish and chips (the speed of eating by Oliver proved that they too were very good).
Oliver and I each ordered Ok from the dessert menu — a chocolate sundae with caramel sauce. Mmmm.
We're here for another night tomorrow, so we'll spend the day touring about western Iceland, relaxing in the hot pot, and, I hope, enjoying another meal downstairs.