Until yesterday, I didn't know that Sana'a' was the capital of Yemen. Truth be told, I didn't actually know where Yemen was (it's next to Saudi Arabia, across the Red Sea from Eritrea). But I've been reading a lot about Sana'a' this week, and while I've been intrigued with tales of fresh mango juice, I've been most interested in the punctuation issues involved. The name of the capital of Yemen, in Arabic, looks like this: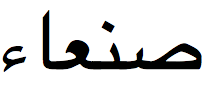 There are many approaches to the Romanization of Arabic.
Looking at each of the letters in the Arabic word using the BATR Character Mappings, for example, you get (from right to left): SnEaa.
The name of the capital ends up in English in a variety of ways; I prefer Sana'a' simply for its typographic symmetry.