When Catherine and I first moved to Charlottetown in 1993 we lived at 50 Great George Street, right across the corner from Saint Dunstan's Cathedral. As such our life was regulated by the ebb and flow of parishioners and our ability to secure on-street parking was determined by where in the ecclesiastical week our search fell.
Despite having lived so close then (and only a block away now that we've moved to town), somehow I'd managed to avoid actually going inside the Cathedral. At some point it became an odd point of pride, like Harry Baglole with the Confederation Bridge or Catherine Hennessey with the trans-Kent pedway.
Today, however, Oliver and I were driving home from the Charlottetown Farmer's Market and had a little time to kill, so we ventured in: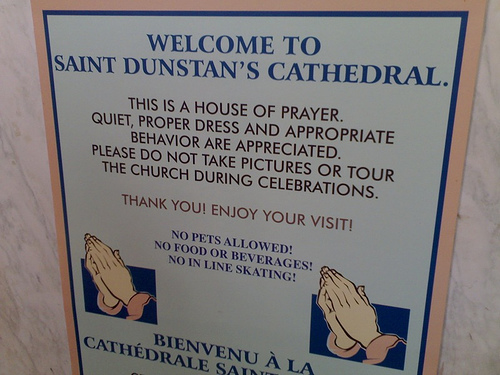 Once you get over the whole "monotheism" thing, and the prohibition against in-line skating, it's actually a rather pleasant space, at least in a "bow down before me you foolish and vain humans" kind of way.