Sadat's Cuisine is a new restaurant in Charlottetown just opened at the corner of Grafton and Cumberland, across from Holland College. It's located in a space occupied by various convenience and grocery stores over the years (most famously Bassett's) but now completely transformed, at least on the inside, into a bright, clean comfortable couple of rooms.
Sadat's advertises itself as offering "Middle Eastern Halal food with fresh local Island products" and the menu, indeed, is populated by mix of new (for Charlottetown) and familiar offerings: samosas, kabobs, rice dishes, soups: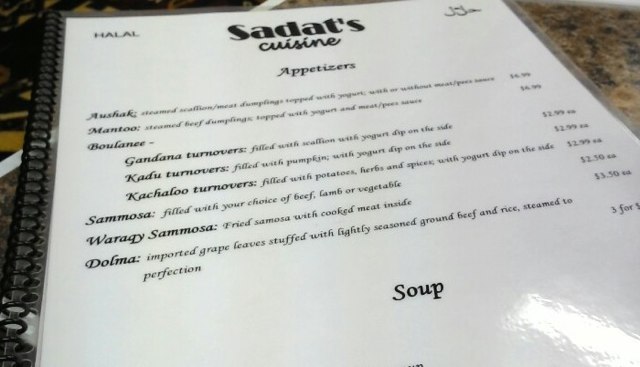 The front room offers tables and chairs; the back room cushions and low tables (you leave your shoes before entering). While it looks daunting, that's where I choose to sit for the lunch I shared there with my friend Lee this afternoon for my first visit:
The service was friendly and accommodating to a standard rarely encountered in Charlottetown; the food was tasty and all made from scratch. We both enjoyed the samosas as a starter and the Fesenjan, described as "sweet and sour pieces of tender boneless chicken with walnuts and pomegranate juice," which was particularly good and a new sort of flavour for this city.
Sadat's is open 7 days a week from 11:00 a.m. to 10:00 p.m. and I suggest you drop in; pull up a cushion in the back room and stay awhile. I think you'll be glad you did.
(For more information and news, follow Sadat's on Facebook or Twitter).