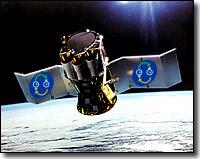 Of all the junk mail I've received recently, most interesting is the Connect, the newsletter of the European Space Agency's Telecommunications Department. Whatever motivated them to add me to their subscription list, I can't imagine. Their introductory letter starts:

Dear Madam/Sir

You may never have considered extending your range of products and services to include satellite communications. Alternatively you might have been discouraged by the complexity of the field and the potentially high barriers to entry…

Yes, it's those darned old
potentially high barriers to entry
that have kept me from owning my own satellite.