I once bought a pair of headphones from AVShop and by virtue of this ended up on their emailing list. Which I actually find somewhat useful as they have interesting products, even if you're not a pilot.
It occurred to me that it would be nice if they were to set up an RSS feed of their "new product flow," so I decided to ask for this: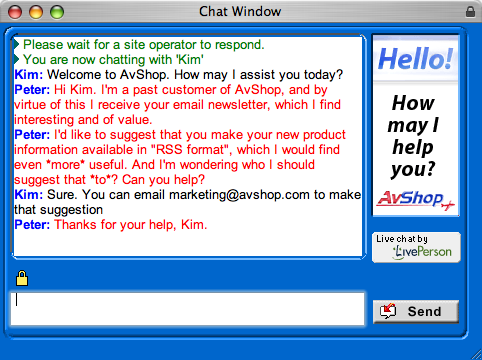 I'll send off the email and let you know what happens.
Update: My email bounced back with a "smtp;550 unknown user " error. Hmmmm.
Update: Many of the links on their contact us page are broken, including the one that reads "We want you to be satisfied…if you've already communicated with someone from our Customer Service Team, an Ask The Manager feature is also available if you believe your concerns need further attention." Maybe I'll phone them.
Update: I had another chat with Kim, and she explained "…we have just converted to a new website and those links have not been changed to the new address. They should be working shortly." She also gave me another email address to try.