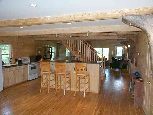 Rob Paterson is organizing a post-holiday blogger bash on January 13, 2004 at his barn in Bunbury.

This is shaping up to be the must-attend geek event of the winter season, so get your RSVPs in early. Rob is providing beer, and promises to dance. Dan and Steven have committed to not dancing (I fully support this, and will join them in solidarity).

The only thing this party is missing is a special mystery visitor from a foreign land. Any takers?