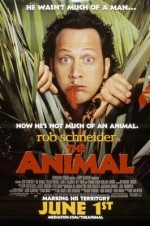 Rob Schneider, American comedian and Saturday Night Live alumnus, starred in this spring's regrettable film The Animal. The film also stars Colleen Haskell, Survivor alumnus and Blistex spokesmodel.

While I had originally no plans to see the film, I now have cause to reconsider, as I've discovered (thanks to my watchful friend Oliver) that the theme song was performed by German band Reinvented. You can watch the trailer (with Schneider and Haskell overdubbed in German no less).

By the way, it turns out that Blistex sells a line of Non-Lip Care Products, including Dairy Ease, a "full line of natural lactase enzyme supplements and treated milk." Somehow the idea of milk that tastes like Blistex doesn't seem very appealing.