I spotted this sign this afternoon; it's newly up on the site of the old Central Farmer's Cooperative on Richmond Street: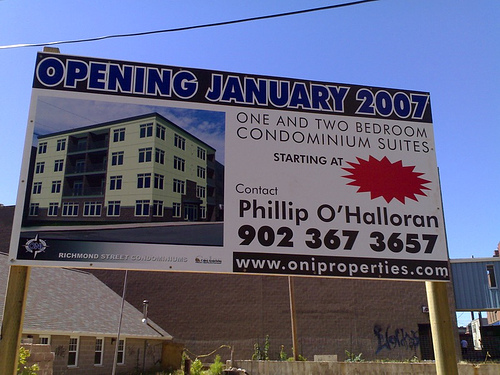 My only exposure to developer Phillip O'Halloran was at a public meeting held several years ago to discuss the disposition of the old Charlottetown Forum lot after the building was demolished. Phillip presented what, by all appearances, was a very well-designed and appropriate plan for housing on that site; unfortunately the awesome power of Holland College to consume every square foot of that neighbourhood for parking meant that the plan was never brought to life.
Phillip has a good reputation as a savvy developer who understands neighbourhoods and design; certainly the look of the Richmond Street Condominiums on the sign suggests that he's planning on putting up a well-proportioned building that's somewhat more than the usual design-free box that typifies other recent housing developments in the city. I'm looking forward to seeing what emerges.