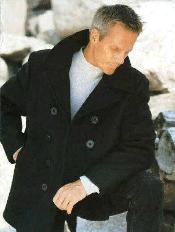 The middle of December heralds the return of the Well-dressed Men to Charlottetown.

There are only four resident Well-dressed Men in our city year-round: Darren Peters, Ritchie Simpson, Robert Ghiz and Brian Cudmore.

The rest of us dress like either Peter Gzowski, Red Green or Kurt Cobain. Or some combination of the three.

But each December two groups of additional men migrate to our city: the Returning Successful Men, and the Well-dressed Spouses.

Because these migrants arrive from the Big City, where fashion is king and the dollars flow freely, they dress themselves in the kind of clothes the likes of which you just don't see on the streets of town the rest of the year.

The Returning Successful Men are Islanders who've gone off to make it Big. They've started multinational companies in Toronto or are working as neurosurgeons in Zurich. Or both. Now they're home for the holidays. And while they know enough not to flaunt their riches and better taste, you have only to look at their SUVs, their shoes, and their scarves to know that they've got it goin' on. And to know that they know that they've got it goin' on.

The Well-dressed Spouses, which is to say those men from away lucky enough to have married a native Islander, tend to carry their couture slightly differently: for them it's not nouveau fashion, it's the way they've always dressed. So they're more confident, more self-contained. They look less like fish out of water than like fish for whom water isn't technically required.

If you are having difficulty spotting the Well-dressed Men as you walk about the downtown doing your Christmas shopping, here are some guidelines:

Watch for gloves, hat and scarf that are colour-coordinated, often in complementary shades of grey or black.
The wool pea coat is the winter outerclothing of choice among this group.
Collarless shirts are also popular.
Ultimately, it's all about the shoes. Look at the shoes and you'll be able to tell in a heartbeat.
If you're looking for behavioural references, watch for the use of the word Lapsang Souchong in restaurants: this is an easy tip-off.
While you might take my tone to be mocking, rest easy in the notion that, as a perennially poorly-dressed resident of Charlottetown, it's more avarice than spite that I seeth with when I see these well turned out visitors on our streets.

"Oh to be well-dressed," I sigh.

And then I sooth myself with this notion: when one is forced to assemble a wardrobe from the men's departments at Mark's Work Wearhouse, Zellers and Wal-Mart, just how high is it appropriate to set the bar?