Hidden away in an obscure circular that appears to have been released in early 2014 by Gander Control is notice that a group of waypoints know as the "fish points" are to be deleted: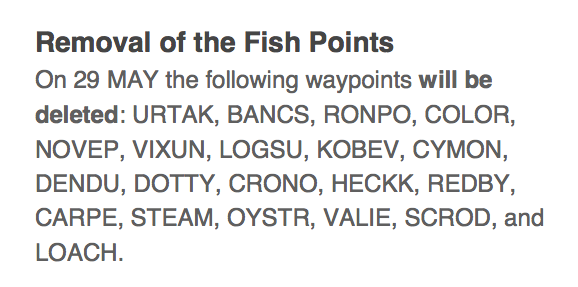 I've been puzzling over how aeronautical navigation waypoints get their names; it would appear, if this retirement of the "fish points" is a guide, that that are simply made up, using some sort of arbitrary theme, while ensuring that they don't sound like other waypoint names, something reinforced in this Nav Canada circular on the same topic that reads, in part "New names to de-conflict with other similar sounding fixes on the NAT" (NAT being "North Atlantic Tracks").
The challenge now is to connect the waypoint codes with their associated fish species. Some, like SCROD, and OYSTR and CARPE are obvious. Others, I have no idea.
Thoughts?