I was taking the bus by Enterprise car rental on University Avenue a few weeks ago when I spotted a Fiat 500 in the lot. When I got back downtown I called them up to see if it was available, but it was committed; they did, however, promise to give me a call when one became available, and a week later, this past Friday, they did, indeed, give me a call in the early afternoon.
I immediately hopped on the bus north and about 45 minutes later I was bopping around town. I called up Catherine and arranged to head to the shore and soon thereafter we were motoring north toward Stanhope for an afternoon of trendy European fun.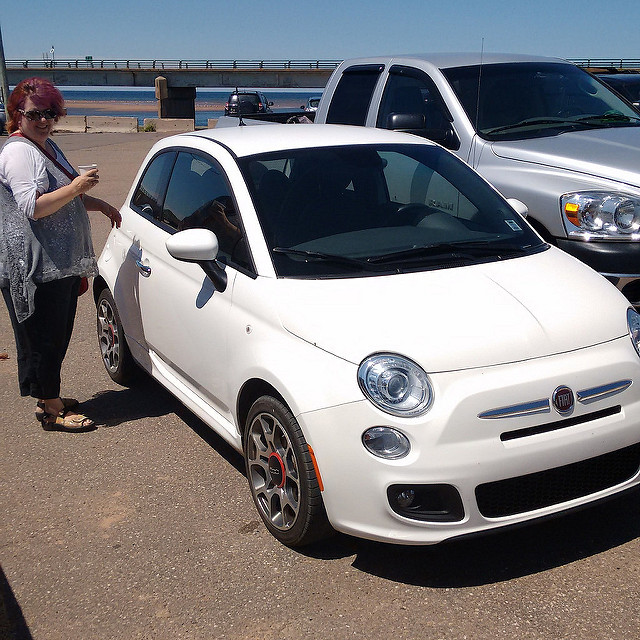 We'd rented the long station wagony version of the Fiat 500 last year for a trip to Maine, the Fiat 500 L, and it was a nice car. But the tiny original model is a completely different beast: it's the smallest car I've ever drive (save for a test drive of a Smart Car), and yet inside it was roomy (at least for 2 people) and it drove like a nimble spitfire.
My favourite part of the car's design is its centre console instrument cluster, which is wonder of compact design: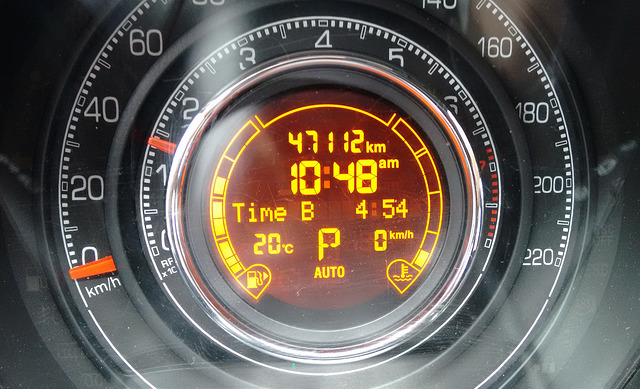 Packed in there are the speedometer (outside ring), tachometer (inside ring), odometer, time, temperature, digital speedometer, fuel level and engine temperature, the gear the engine's in (P for Park on this display) and – the "Time B" line – a line of text that can be toggled among things like the current trip's time and the current track playing on the radio.
I much prefer this to the ubiquitous touchscreen displays mid-console that every rental car I've driven in the past few years has been afflicted with.
We had the car for the weekend, so after Catherine and I motored out to the beach and back on Friday, Oliver and I went up to Souris and back on Saturday: it proved a perfect car for a father, son & dog trip.
I drove 315 km in total, and put about $25 of gas into the car on the way back to Enterprise, meaning that the gas mileage was about 35 MPG or 6.67 litres/100 km.