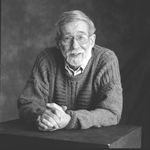 I do not have many heroes, but Peter Gzowski was one.
I count as one of the highlights of my life being interviewed by him — about technology, along with Kevin Kelly and Gerri Sinclair — while standing in a meadow at UPEI in the early summer of 1995.
Gzowski was a masterful interviewer (it helped, of course, that I was playing the role of the techno-sceptic, which meshed with his own views nicely), and a perfect gentleman. He had that ever so rare ability to appear curious about pretty well anything, and anyone who has ever been interviewed can tell you that this is like gold to the interviewee.
I have never been a strong Canadian nationalist, and consider most of what we call "truly Canadian" to be either boring or appropriated. By Peter Gzowski was, I think, Canadian through and through, one of those people who just couldn't be considered American (or anything else). Not because he was a strong nationalist (he was), or made false attempts at "reflecting the regions" (he didn't), but because, in his endearing, rumpled, pondering, avuncular way, he was someone we all had in common — a nextdoor neighbour for the nation.
My fondest memory of Peter comes from an episode in Peterborough in the late 1980s. The local CBC affiliate, CHEX-TV, wasn't a bona fide CBC station, and therefore wasn't obligated to air the entire CBC schedule. The result was that we local viewers got Wheel of Fortune and Jeopardy in place of shows like Adrienne Clarkson Presents and Friday Night.
For some reason the irked me strongly, and so I mounted a small rebellion involving letters to the editor, to local politicians and so on. I also wrote a letter to anyone else who I thought might share my concern.
Peter Gzowski was one of those I wrote to, and he wrote back a very nice note of support from his home on Lake Simcoe. For him to do that, amidst his life of Morningside and book writing and who knows what else, meant a tremendous amount to me.
I've since misplaced his note, but will never forget that, nor the endless hours of wonderful radio I listened to over the years.
I will miss Peter Gzowski.