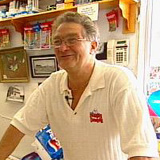 Earlier this week I heard that Bobby Clow has suffered a stroke; this morning I was deeply saddened to learn that he died last night.
When we moved to Kingston, PEI in 1995, going up to Clow's Red & White became a regular part of our life: we bought our gasoline there, rented videos, bought groceries and hardware, and learned what was up in the community. The first time it snowed after we moved into our new house I drove up to Bobby's to buy a snow shovel, and when I needed to do some emergency plumbing one Saturday afternoon, his wife Verna sold me 4 inches of metal strapping for 37 cents. And when the emergency plumbing didn't work out, I got a recommendation for which plumber to call.
When my parents came to the Island for the first time for Christmas, I took my mother up to pick up our fresh turkey. Bobby greeted my mother like royalty, and he proudly took us into their house — attached to the store and reached by walking through the post office — and showed us his Christmas display.
Many refer to Clow's as the "last of the old-time general stores" on PEI. But once you scratch below the surface you quickly realize that there's nothing "old-time" about Clow's: the store has succeeded by constantly evolving: adding products, dropping products, re-merchandising the store. What is old-time, however, is the service: consistently helpful, willing to go above and beyond the call of duty, and truly the centre of the community. And, with Bobby in the room, often incorporating some straight-talking wit that would either entertain you, or floor you, and often both.
When Dave Moses and I needed to hire a programmer to craft the Vacancy Information Service for, we ended up hiring Bobby and Verna's son Gary. Not only did we receive the gift of a talented and irreverent programmer, but I also learned a little bit about what growing up in the middle of the maelstrom was like.
Bobby was perhaps the best-known contemporary Islander: I don't think, in 14 years here, I've yet to meet someone, from down east to up west, who didn't know Bobby. I remember flipping through the channels several years back and stopping at Cable 10 when I saw he was a guest on the Point of View call-in show. The calls didn't let up, and everyone who called had some sort of connection to Bobby; it was an amazing sight.
Matthew Rainnie interviewed Bobby's friend Gordie Lank this afternoon and shone more light on Bobby's life.
My thoughts are with Bobby's family tonight.