A friend of mine made reference, in an email a few weeks ago, to her vain attempts to "release attachment to the outcome."
That struck a chord with me: doing exactly that has removed one of the great sources of stress in our family's daily life: getting to school on time.
According to the letter of the law, the school day at Colonel Gray Senior High School starts at 9:00 a.m.
And so our goal, starting out the year in September, was to try to arrive at school at 8:45 a.m. to give Oliver a chance to get settled before things ramped up.
This turned out to be untenable, for a variety of reasons.
First, if you work backward from 8:45 a.m., and factor in that we were walking to school in the fall, we had to leave the house by about 8:15 a.m. Which meant breakfast had to be underway by 7:30 a.m. Which meant getting Oliver out of bed by 7:00 a.m. Which meant getting myself out of bed by 6:30 a.m.
It wasn't so much that this order of operations was untenable–6:30 a.m. is a perfectly reasonable time to wake up–it's just that the military precision required to getting all operations completed on time to allow for an on-time arrival at school was eating away at our souls, especially Oliver's, as there's nothing he likes less than being rushed.
So, with the generous cooperation of school officials, we decided to release our attachment to the outcome: we'd try to get to school by 9:30 a.m., but if we didn't, well, that would be okay too.
The positive effect on our family life was immediate and dramatic: with no time-pressure, our mornings could be leisurely and free of "Oliver, you have to hurry up and eat so that we can leave on time" stress coursing through the house.
Slow morning getting started? Who cares!
Oliver needs a little more time to finish watching a Robert Reich video or to memorialize somebody's birthday by posting 89 YouTube videos to their wall? Take your time!
The great irony of this is most days we arrive at school, without consciously trying, at about 9:22 a.m.
I know this because the first thing Oliver does every morning on arrival is to go for a walk with Dave, his educational assistant. And so my first action on arrival is to send a text message to Dave, and to Shelly, the leader of the Learning Centre at the school, letting them know we've arrived.
And scrolling back through my text messages last week I found that there's freaky regularity in our arrival time: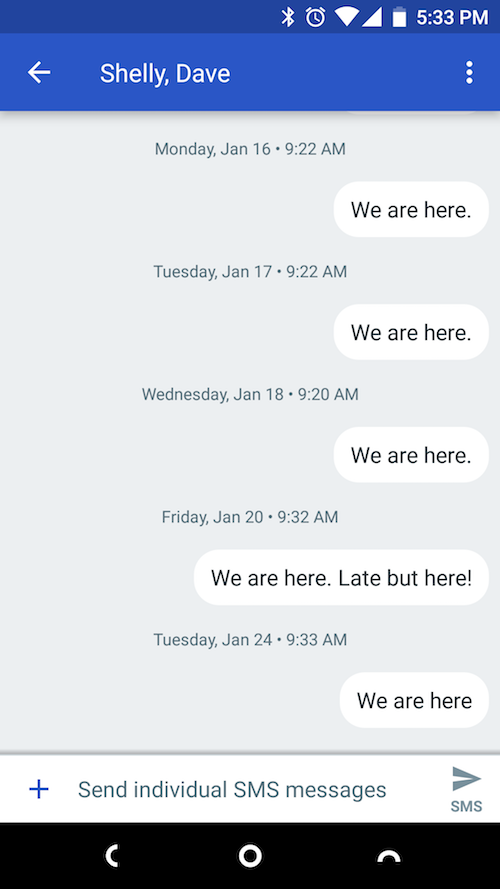 This is supported by my Google Location History, which tracks my location and automatically records my arrival time at the school each morning:

Discovery of our regularity came as a big surprise to me, for I'd been under the impression, what given our release from attachment to the outcome, that we'd been arriving on a random schedule, untethered to real-world concerns like clocks and schedules.
But, no, it's almost always 9:22 a.m.
9:22 a.m., it seems, is the time that Oliver is meant to be at school when we follow the natural rhythm of our family.
9:22 a.m. works for us.
9:22 a.m. doesn't make us rush. It doesn't make Oliver time-claustrophobic.
9:22 a.m. has made the difference between a hectic, stressful morning and a calm, enjoyable one.
I'm so happy we released our attachment, and that we were supported in doing so.