While it's possible to argue that Mitch Podolak's greatest invention is the Winnipeg Folk Festival, an equally compelling argument can be made that it's actually Home Routes, the Canadian "house concert circuit" that he co-founded.
Here in Charlottetown one of the stops on the Home Routes trail is the Elmwood Heritage Inn on North River Road. By chance I ended up on the mailing list for their series when my old friend Eve played there two years ago and I've had the pleasure of returning to Elmwood 3 or 4 times since. It is a wonderful tiny venue for music, and Carol and Jay are warm and generous hosts. It makes seeing music in larger venues seem cold and barbaric by comparison.
Yesterday was the opening of the 4th season of Home Routes concerts at Elmwood and it was a wonderful afternoon: Red Moon Road from Winnipeg, fresh off the ferry from Cape Breton, set themselves up in the living room and played to an enthusiastic crowd of about 15 people from the neighbourhood.
They had me from the opening line of their tune Come Home:
Little Wilhelmina was abandoned,
in circumstances imagined to be tragic,
maybe magic,
was involved,
Like her parents met an evil witch,
who took the baby and made a switch,
for cabbage,
and so managed to escape.
The song is, despite the wit of the opening, a rather tragic one. But so well told, and with such musicianship:
It's difficult to convey in words how much joy effuses from this trio; they may be the happiest band I've ever seen play; they genuinely love playing and it shows. Each is an accomplished musician and storyteller and each brings something to the mix; they are a trio in the truest sense of the notion, and to watch them interact is a thrill.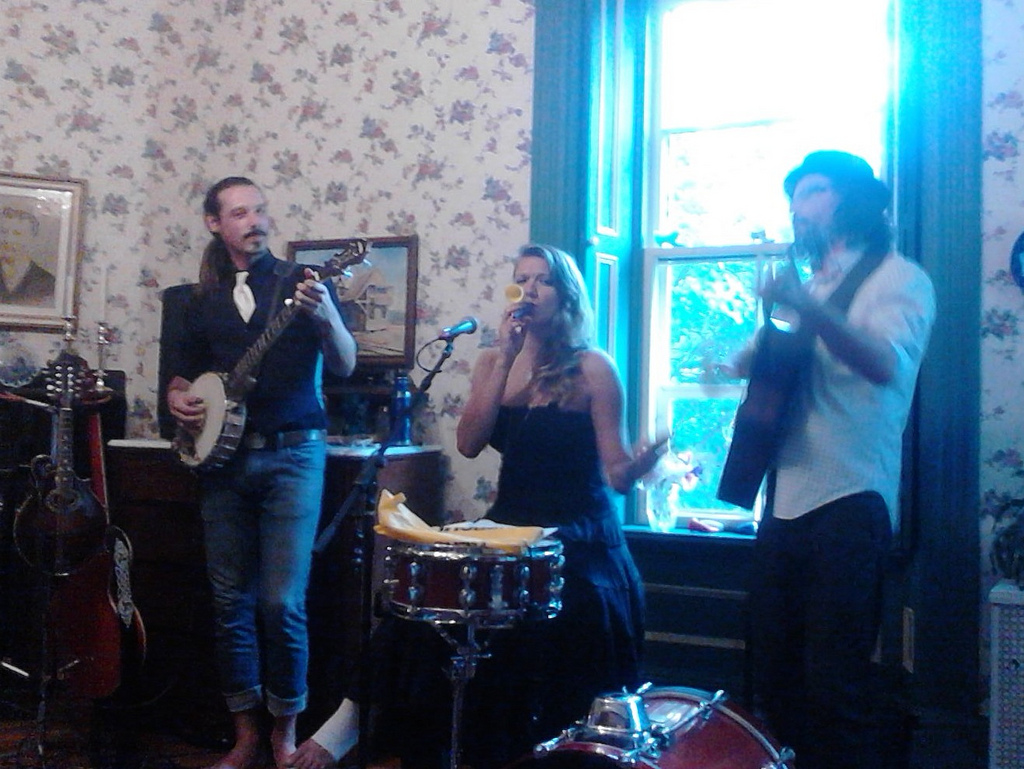 You'll have two more chances to see Red Moon Road on Prince Edward Island this fall: they play a Home Routes concert in Summerside on September 24 (email tim@homeroutes.ca for details) and then the Trailside in Mount Stewart on October 3rd.
You really should make an effort to see them.