All of the vacationing Rukavinas have returned to their alloted home provinces now, and the Rukavina level on Prince Edward Island has returned to its steady state of two (Oliver and I).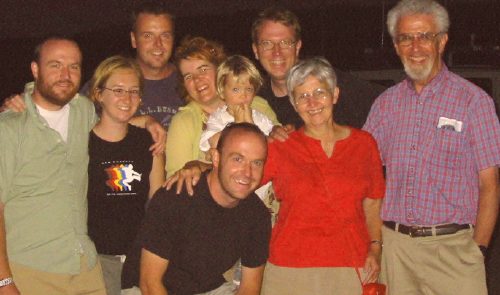 Pictured here, last week on the wharf in New London after a filling and tasty dinner of Island seafood, is the entire collection. From left to right: brother Johnny and sister-in-law Jodi from Vancouver, brother Mike from Burlington, Catherine, Oliver, brother Steve from Montreal, me, mother Frances and father Norm from Carlisle (Ontario).

By the time this picture was taken, we'd already been out and about for a very long summer day, including a visit to the Do Duck Petting Farm, go-carting in Burlington, and walking on Cousins Shore. And that was only the afternoon. This goes part way to explaining our general "rough and ready" look.

The weird thing you will notice about my family is that, other than Johnny and Steve who are identical twins, the rest of us look like we could be from different planets let along different families, yet we are all (with the exception of Jodi and Catherine, of course) related by blood.

We miss them all.