A combination of overwork yesterday, and a sudden "oh no, I won't be in Italy any more come tomorrow" prompted me to make a quick dart into the seaside town of Alassio today.
Getting to Alassio from Colletta is half the fun. Once you've completed the exciting ride down the twisty roads of the valley down to Albenga, you head west and immediately hit a series of tunnels, the longest of which is 2.3 km long and seems like it will never end. And then, suddenly, you're in Alassio. The whole trip only takes 25 minutes.
Everyone I talked to about "what to see in the area" last weekend here in Colletta raved about Alassio, so it seemed like a good place to visit. I was not disappointed.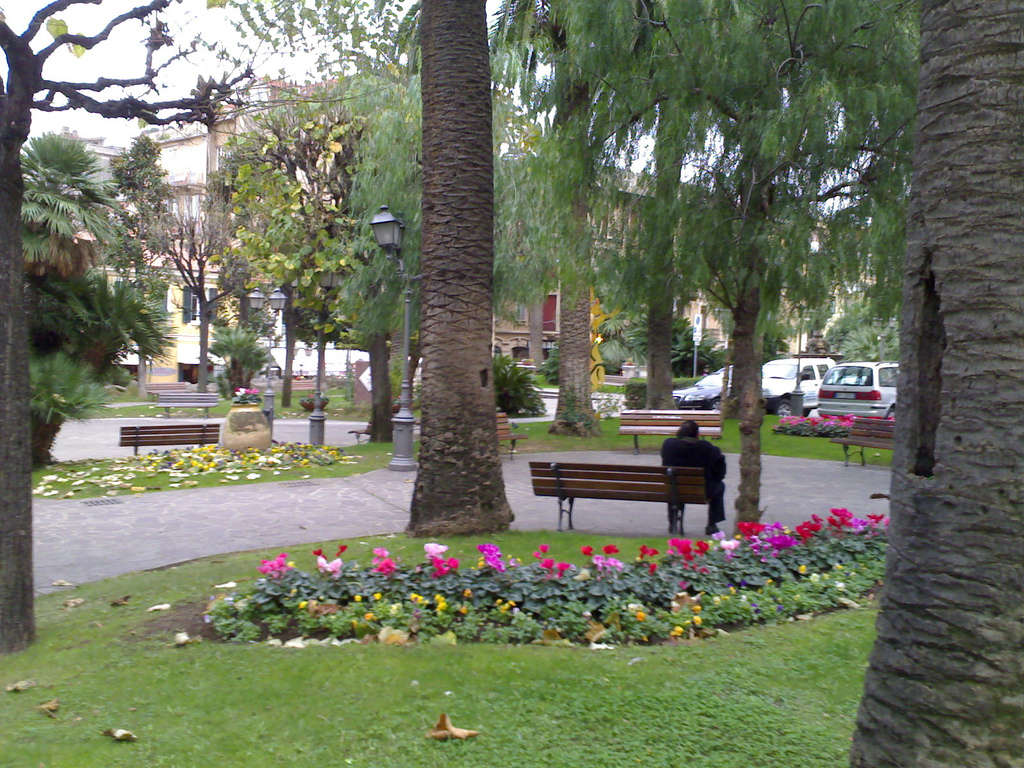 If Albenga is the gritty workaday Hamilton-like seaside town, then Alassio is its Niagara-on-the-Lake idyllic cousin up the shore. The Budello is a pedestrian-only shopping corridor, like Strøget in Copenhagen, that is the spine of the downtown, running between the main street and the sea. It is, oddly enough, an easy stretch to miss if you don't know it's there; I happened upon it completely by accident while looking for a place to eat.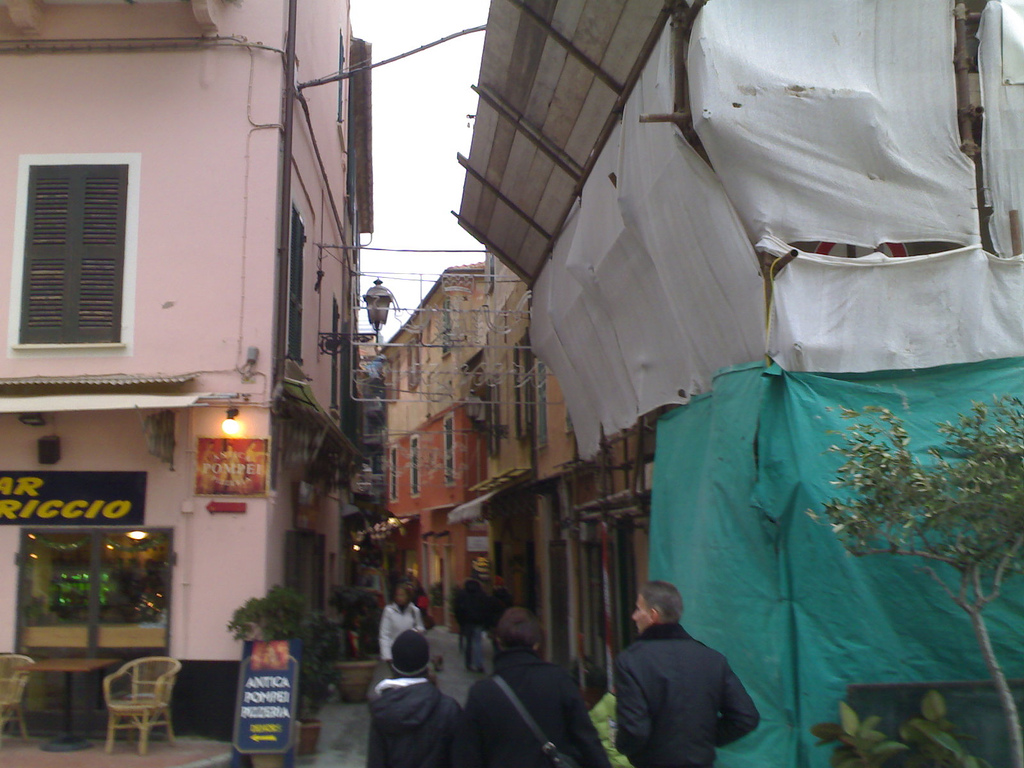 As elsewhere in this region, the shops all close up for lunch at either 12:30 p.m. or 1:00 p.m.; I arrived at 11:30, so I had precious little time to fulfill my dual missions of gelato and coffee refueling and last-minute piccante olive purchasing.
One of the amazing things about the Budello is that it's literally steps from the sea, and all along its length there are short tunnels that lead right out to the beach: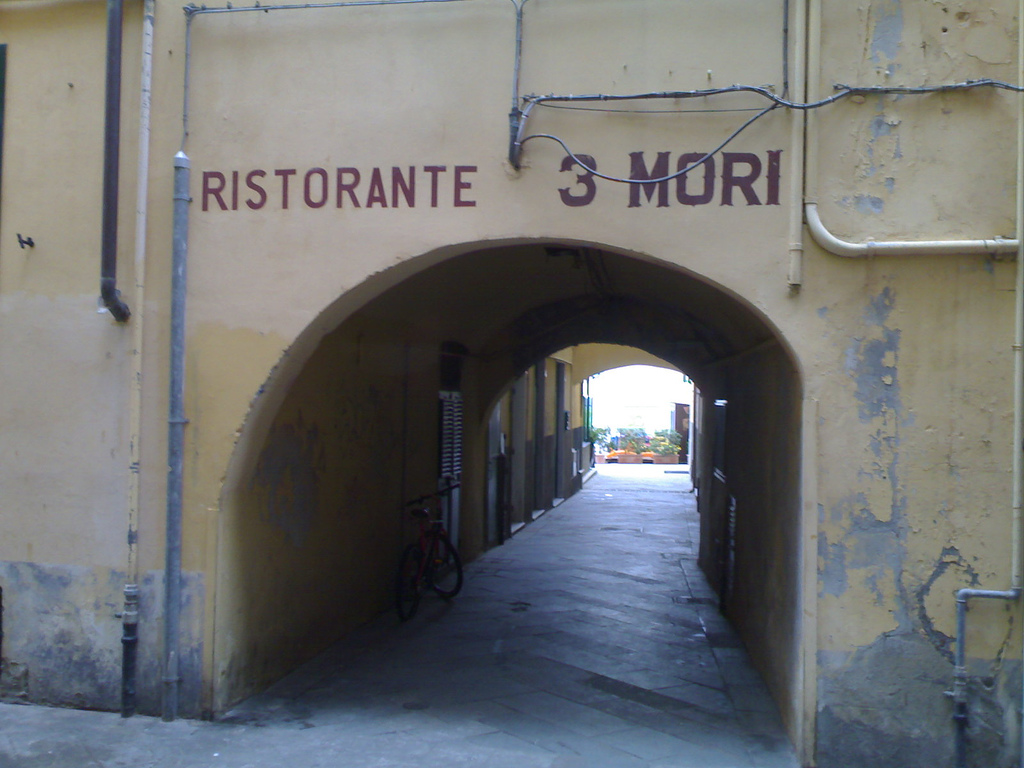 I have no idea what happens when the sea gets angry, but I imagine that global warming will not be kind to Alassio.
Reasoning that my shopping efficiency would be dramatically increased if I ate sooner than later, I stopped at La Pizza Al Volo, a small hole-in-the-wall, and got myself a simple slice to go: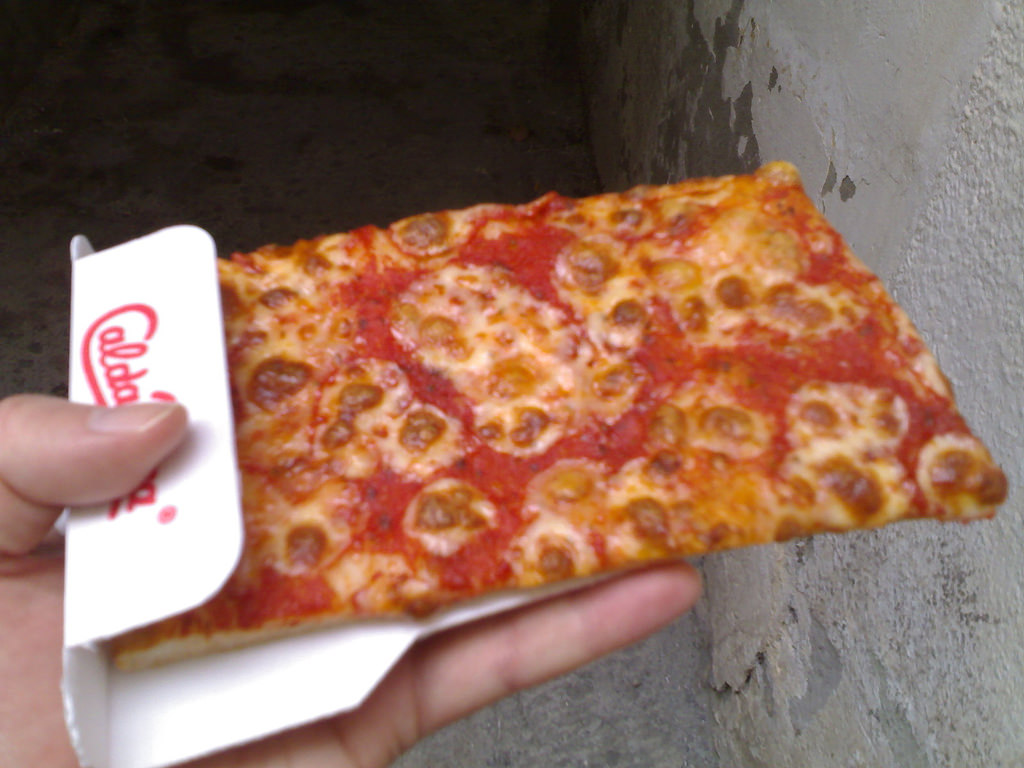 Suitably energized, I made short work of my entire task set: I had a strong cup of espresso at Allevolte Caffé, picked up two jars of spicy olives at Terre Di Mare, bought a cool Italian car for Oliver at Pino Giocattoli, and finished it all off with a chocolate gelato at Gelateria A Cuvea. Along the way I got a got tour of the length of Alassio.
My parking ticket was set to expire at 1:28 p.m. and I arrived back at the car at 1:26 p.m. just in time. Almost as soon as I stepped inside the car the heavens opened up and a torrential downpour began. I couldn't have timed it better.
Some practical suggestions. When you come off the highway from Albenga and follow the signs to "Centro" — downtown — you'll eventually come to a place where the road appears to continue straight ahead, with a small tunnel off to the right heading under the train tracks: turn right at this point and you'll end up right where you want to be. If you continue on, as I did, you'll end up driving high into the hills wondering where on earth Alassio is. Although you can park on the main street, it's hard to find a space. There's a nice pay-parking lot right beside the train station; you simply buy a ticket for the amount of time you want to stay and leave the ticket in your windshield. Remember that shops shut down (although not bars, restaurants nor some tourist-oriented shops) at either 12:30 p.m. or 1:00 p.m. and the Budello becomes a ghost town; plan your trip for the morning or late afternoon if you want to be there for the action.