Johnny and Jodi and I headed off to Interlude for lunch this afternoon only to find it closed (for today only). Suddenly Jodi remembered a new restaurant, called Queue, had opened beside the Pilot House on Grafton St., so we walked over and had lunch there instead. (Don't ask me how a major new restaurant can be open for 4 weeks, a block from my house and two blocks from my office and I don't hear about it…)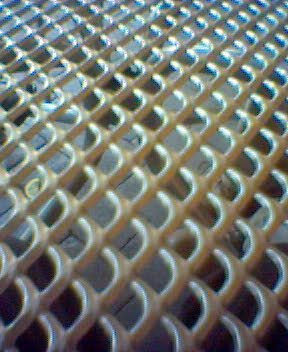 Queue is in the space at the end of the Pilot House parking lot formerly used as an office and storage space by The Two Sisters. In its new incarnation, however, it bears little resemblance to a warehouse: it's been refreshingly renovated into a large open space, with bright colours, Karen Gallant paintings and lots of light. There's a very pleasant patio outside — perhaps the nicest patio space in the city; the owners deserve credit for investing in high-quality metal patio furniture (pictured here) instead of the default "buy whatever's cheapest at Canadian Tire" that is the norm.
Although the waitress suggested that Queue is the "healthy" cousin to the Pilot House — they don't serve french fries, for example — the menu was pretty straight ahead "family dining" style: crepes, pizza, pasta, salad. Think Piece a Cake but without the bravado.
I had high hopes for Thai Peanut Pizza, but it ended up being an uninspiring crust topped with french onion soup-style mozzarella and only the vaguest hint of thai spice or peanuts; more "cheese on toast" than "tasty spice explosion."
Jodi had crepes and Johnny had a steak cheese wrap, and both seemed to quite enjoy their meals, so perhaps if I set my sights on less of a transformative experience (always the trap I fall into in new restaurants) I would have been happier with the results.
Non-alcoholic drink selection (another "must-have" for me) was as poor as any other restaurant in Charlottetown; I settled for an apple juice when my lips were crying "non-sweetened iced tea."
Service was pleasant and prompt.
Final verdict: excellent location, very pleasant space, don't expect to be moved by the food.