I was at an auction at Royalty Centre in uptown Charlottetown this morning at the offset-printing outpost of Queen's Printer. While my own purchases were modest — a coat rack and an oily rag can — there was enough equipment on offer to outfit a small offset print shop, and, with only 5 bidders on hand, the equipment went for a steal (presses worth thousands going for $100).
While this small auction — just 17 lots in total — might appear an insignificant disposal of crown assets, it actually represents much more than that, for it marks the end of more than 200 years of history during which Queen's Printer actually printed, committing ink to paper with a printing press.
With the disposal of this equipment, Queen's Printer — or the "Document Publishing Centre" as it's now known in common use — is a 100% digital operation, with large and powerful digital printing machines in the basement of the Shaw Building at its disposal, but nary a printing press in sight.
Under the Queen's Printer Act, "The Lieutenant Governor in Council may appoint a Queen's Printer for the province, and fix the salary and prescribe the duties pertaining to the office." There has been a Queen's Printer — or a King's Printer, when we've had a King rather than a Queen — back to the earliest days of Prince Edward Island, and it has been their role to oversee the printing of the official documents of the province, documents like the Royal Gazette and the Journal of the Legislative Assembly.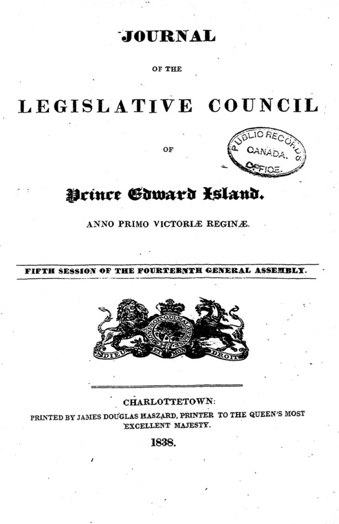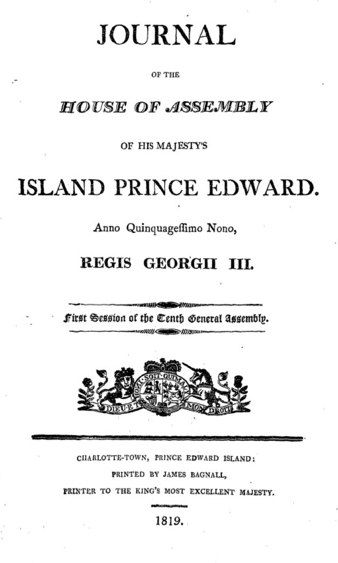 While today the holder of the position is a public servant — currently it's Mike Fagan, whose official job title is "Manager, Document Publishing Centre, and Queen's Printer" — in earlier times it would be a local printing company that would be appointed to the role, such as those of James Bagnall and James Douglas Hazard, about whom Eminent Islanders says: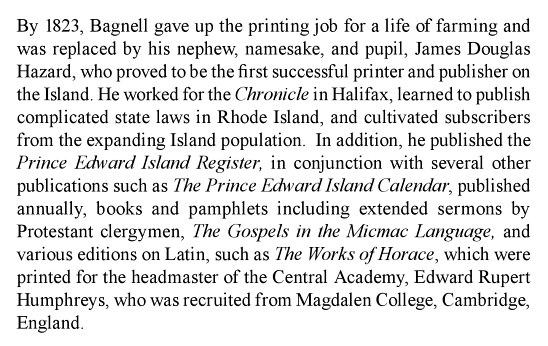 Looking back almost 200 years to the product of King's Printer of the day, you can see they did beautiful work, work that's more remarkable still when you consider that it was set by hand (mechanized typesetting was not to be invented for another 66 years when this example was set): every single letter of what you see below was picked out of a type drawer by a printer, assembled into a form, and printed on a letterpress.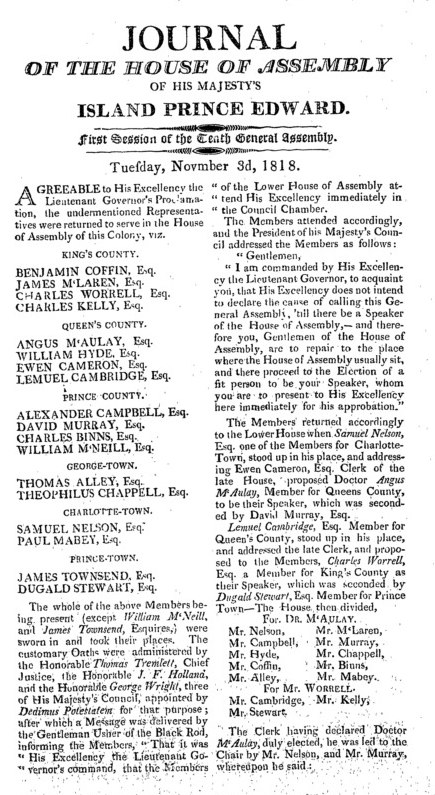 While it was perhaps inevitable that Queen's Printer would stop printing with printing presses (and perhaps, in the not too distant future, they will stop printing altogether and go all-digital), it's still sad to see the end of this tradition, especially as it came to such an ignominious end, in the suburbs, without any sense of the great and longstanding trade of putting ink to paper in the name of the Queen or King.