Although the day was considerably diminished by the absence of P. and J., who had accompanied us to the New Year's Day levees for the previous three years, G. and I were graced by the presence of S. from Denmark, which removed some of the sting.
As is the custom, we all gathered for some of Catherine's excellent coffee around 9:30 a.m. At 9:55 a.m. G. stood up with a start and proclaimed "It's almost 10:00! We're going to be late for the Governor's!" So we hurried off into the crisp 2007 morning.
The day, as I heard someone later proclaim, was "very large." A little colder than 2006, but sunny and just warm enough that you could walk around without a hat.
We sprinted over to Fanningbank to find the line pleasantly short. By lucky happenstance, we arrived at the same time as CGH and sister and brother-in-law from Victoria and a happy reunion was had by all. Then it was into the house, a wend and wind around the entrance halls, off with the coats, and into the receiving line.
This was my first Lieutenant Governor's levee without Hon. J. Léonce Bernard: regular readers will recall that back in 2004 I managed to completely miss him in the receiving line. I had no such problems this year, as his replacement, the ebullient Hon. Barbara A. Hagerman and her imposing husband Nelson, were unmistakably and warmly greeting all callers.
Per protocol I whispered my name in the ear of Her Honour's aid, and he, in turn, whispered my name in Her Honour's ear.
At which point ensued an extended conversation about how my last name is not Roggeveen.
By way of explanation:
One Christmas back in the early 1990s I was in at the CBC taping a radio piece and technician Andy Morrow, wishing me the best of the season, asked how my "father in Scotchfort" was doing.
Given that my father was not, in fact, in Scotchfort. And had never, as far as I know, been to Scotchfort, I was confused. The confusion was cleared up when we realized that it was Mr. Roggeveen of Scotchfort that Andy was referring to.
It seems that, to the Island ear, Roggeveen is the same as Rukavina. How this works I do not know, but it's certainly not limited to Andy.
In the intervening years, I've been asked "is that your wife who runs Just Us Girls?" (Susan Roggeveen) several times. And we've received calls at the house from people wanting to place orders for Christmas boughs or trees (the aforementioned Mr. Roggeveen is in forestry). People think I'm related, by marriage at least, to Bobby Clow (there's a Roggeveen connection in there somewhere).
So Her Honour's confusion was understandable in an Island context.
Fortunately, by the end of our exchange I believe I properly schooled her in the proper nuances of Rukavina pronunciation.
I'm not completely sure of the protocol here, but I believe this might also signify that I've formally informed Her Majesty Queen Elizabeth II, Queen of Canada of same.
With my family's honour now intact, I graduated to the beverage line, and had two very pleasant conversations. The first was with Hon. Robert Ghiz — one not immune to Rukavina-pronunciation problems, although he's atoned for his sins several times — wherein we agreed that it was, indeed, hard to find a good cappuccino in Charlottetown (I believe I may have extracted a commitment to launch a vigorous Italian immigration program in any future Ghiz administration). The second was with Wayne Collins, my former radio colleague who's now sitting across the floor from Mr. Ghiz (in truth he's actually behind him and to the left a little) as MLA for Winsloe-West Royalty. Wayne admitted to being a regular reader of my Italo-blogging, and suggested that I lived a charmed life. Perhaps I do.
Having effectively liaised with two sides of the political spectrum, and after a brief hello to Shawn Murphy, our MP in Ottawa, on the way out the door, we were off to City Hall.
On the way there I suddenly recalled the Croatian New Year's greeting of "Sretna Nova Godina" just in time to wish same to my clarinet-playing friend from the old country; alas this year he wasn't in his traditional spot at the bottom of City Hall stairs and I was left to wish it to G. and S.
We slowly made our way up the stairs, with G. establishing family connections to most of the people in the line. Two spots back in line was the Premier, Hon. Pat Binns: kudos to him for lining up with the rest of we civilians, something I can't imagine happening in any other province.
From there it was through the receiving line in the council chamber where I was happy to encounter fellow blogger and now Councillor for Ward 3 Rob Lantz, well turned-out in a suit and with a rose in his lapel. He looked right at home.
The City Hall levee is renowned for its food, and this year they pulled out all the stops: they had cheese on the cheese plate that I'd never seen anywhere before, endless platters of sweets, and hearty sandwiches with the corners left on.
Leaving City Hall I ended up going down the stairs behind two kilt-wearing men who it seemed had some connection to absolutely every family on the Island — even more connections than G.! As a result it took us about 15 minutes to make our way down as they stopped to greet every person on the way up.
At the bottom of the stairs I ran into the well-turned-out Ann and David, and into Nils Ling, and then it was off to the Charlottetown Hotel next door for the UPEI Levee.
Truth be told, I would skip the UPEI levee — they host what is arguably the least bountiful of all the levees from a food and drink perspective — if it weren't for the warm greeting I receive every year from President Wade MacLauchlan; he certainly knows how to make one feel welcome. This year I had the additional pleasure of formally meeting Fred Hyndman, pillar of the community, owner of my insurance company, and sometime commenter in this space, for the first time.
From the hotel we rocketed ourselves down Pownal Street and around the corner to the Haviland Club. Mistaken reading of the schedule on my part meant that we arrived there 30 minutes too early. Fortunately they were quite accommodating, and we were admitted early and thus had advance access to the sweets table and the 75th Anniversary Cake: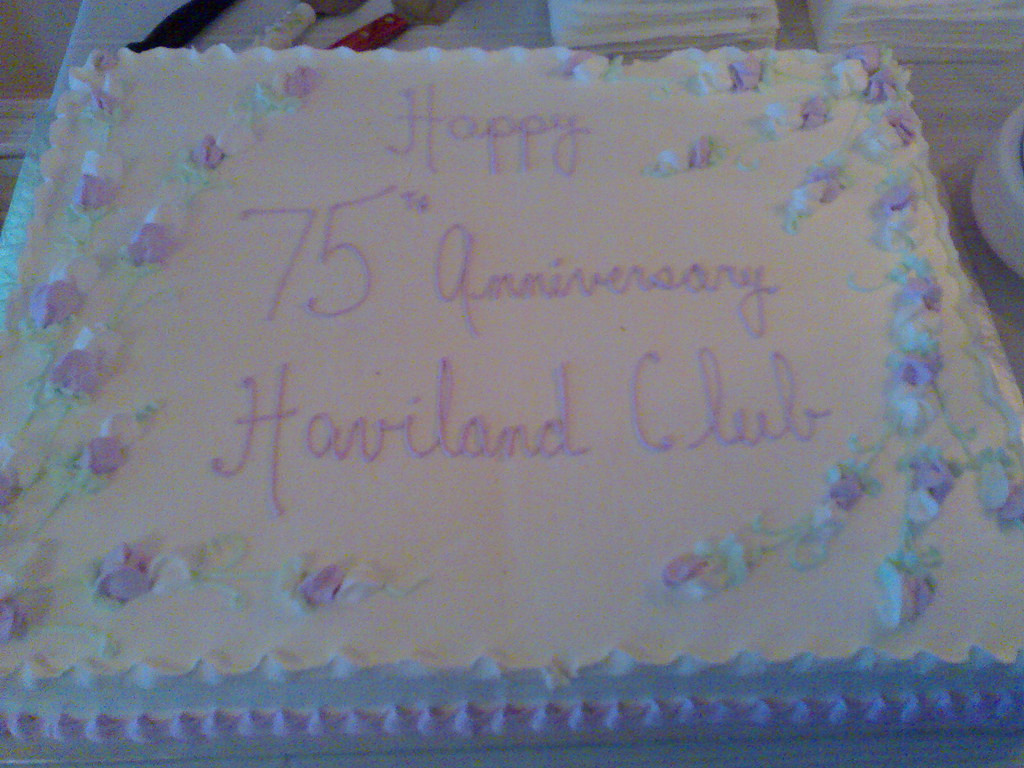 Moving through the receiving line at the club I met another reader of the weblog: he'd Googled for Haviland Club and ended up here and seemed quite delighted by it all.
We milled about the club, enjoying the fire and the sweets and the fellowship of our co-revelers. G. generously introduced me to Father Francis Bolger, and I got to thank him for his book Canada's Smallest Province and all that it taught me about my adopted home.
Another scheduling error on my part sent us out into the cold 30 minutes too early for the levee at the Queen Charlotte Armoury next door, a problem we solved by taking a quick walk around the boardwalk (where we got to see, among other things, the monsterous new condos that are going up at the end of Haviland St.).
The final stop of the day for me was the aforementioned Armoury, arguably the liveliest stop on the levee circuit what with the full orchestra and all. Our early arrival meant that I got to see the highlight of the decorating effort at the Armoury, the word ARMY spelled out in saltines: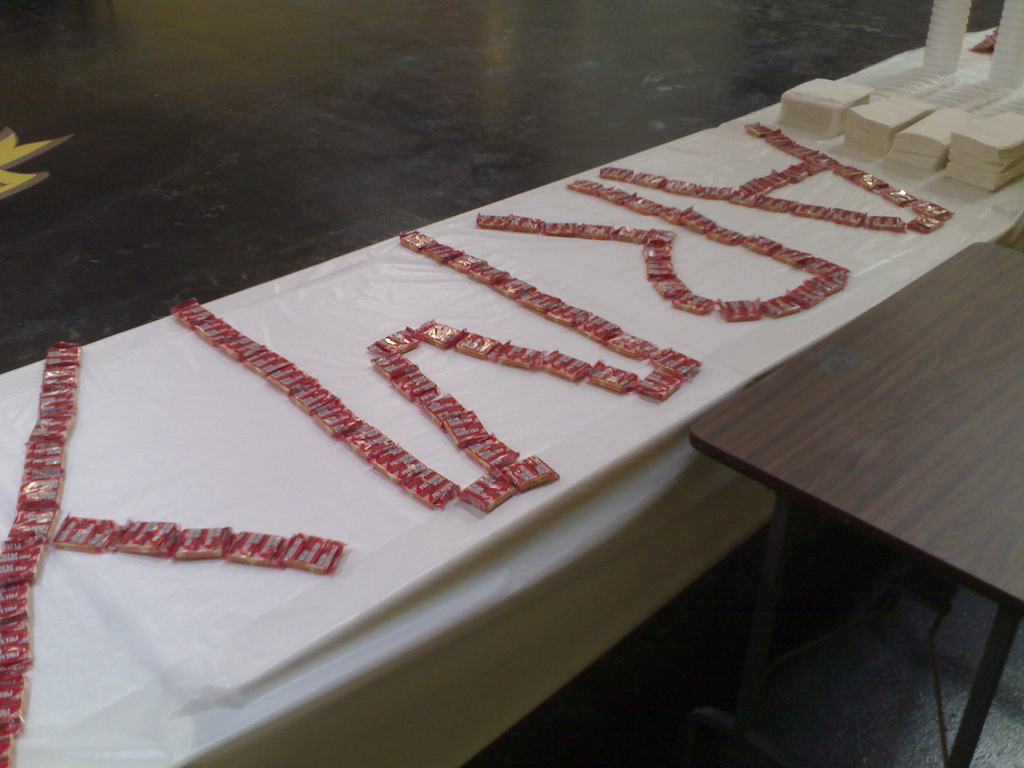 A bowl of chowder, a quick trip through the regimental museum, some quick New Year's greetings to friends, and we headed back outside.
Along Water St. and up Great George and around the corner to our house where I changed places with Catherine who joined the G. and S. train for the levee at the Bishop's Palace (I wasn't feeling very pious this year).
By the time Catherine returned, I was settled in to some serious Google Earth browsing with Oliver, and so I also passed on the Premier's Levee, leaving me without my traditional formal documentation of the year. Nothing wrong with skipping a year here and there, though: it means I'll be 39 in the eyes of the blogosphere into 2007.