The City of Charlottetown sent along a letter to our landlords here at the office about a proposed development that's slated for the empty lot two doors up Fitzroy Street:
The City of Charlottetown has received an application in accordance with Section 4.29, Other Variances, for a variance to the property located at 96-100 Fitzroy Street (PTD #'s 344085, 344101

&

344093) which is zoned Downtown Mixed User (DMU), to allow an increase in height from 39.4 feet (12.0 metres) as required by the Zoning and Development Bylaw, to 98s feet (29.8 metres). The pupose of the variance is to permit the construction of a seven story office building. The proposed height of the building from grade to rooftop is eighty five (85) feet. The proposed height of the building from grade to the top of the mechanical penthouse is 98 feet. The proposed building will also be constructed to the property line or zero (0) setback. The attached map shows the location of the proposed structure on the property. In regards to parking the developer is proposing off lot parking or cash-in-lieu or a combination of these options as determined by Council.
As a property owner within 100 meters of this application, you are being notified of the requested variance. The City solicits your comments with respect to the proposed variance. If there are any objection(s) we would appreciate receiving the reasons for the objection(s) within fourteen (14) calendar days of the date of this letter. In accordance with Section 4.29 the City Planning Board will consider this application at its next regular meeting and may then recommend to Council to grant or deny this variance. Written comments on this application should be submitted no later than 12:00 noon on February 19, 2008.
If you have any questions in regards to this proposed variance, please contact the Planning Department at 629-4158.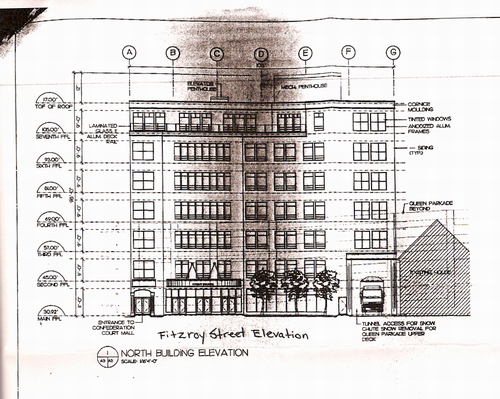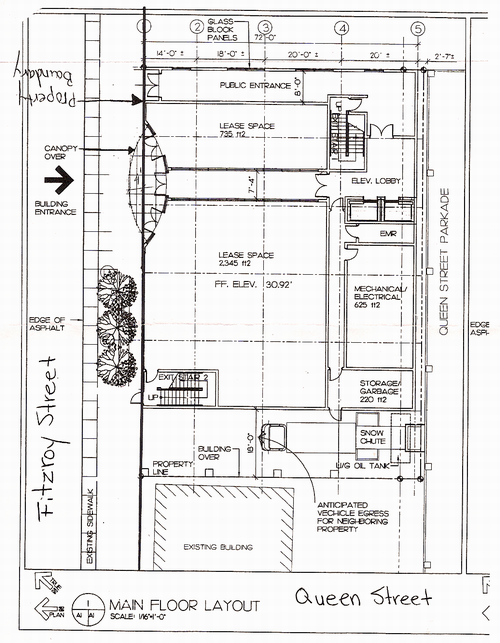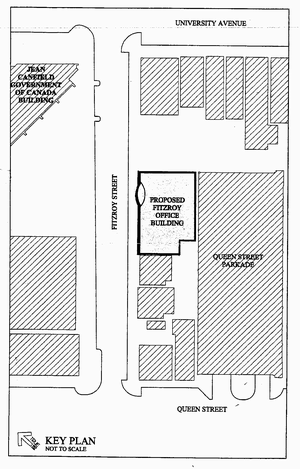 The lot in question has been empty for the past few years; formerly it was occupied by a rather dilapidated building which was torn down. In recent years the lot was used as a parking lot for construction workers building the Jean Canfield Building across the street, and last fall the parking lot was closed and an 8 foot high plywood fence was built around 3/4 of the lot. This is what it looks like this morning: