The network really came through in response to my request for translation help for a flier for the Prince Street School Spring Fling and I ended up with translations in French, Spanish, Chinese, Arabic, Russian and Persian. You can download a PDF of the flier and we'd really appreciate if you'd print a few copies and stick them up around your office or school or neighbourhood.
And, of course, I encourage you to come out to the Spring Fling yourself: it's this Friday, June 5, 2009 from 5:30 to 7:30 p.m. at Prince Street School, 60 Upper Prince Street in Charlottetown. And even if you can't make it out in person, you can still bid online in our silent auction until Noon on Friday.
Here's what the final version of the flier looks like: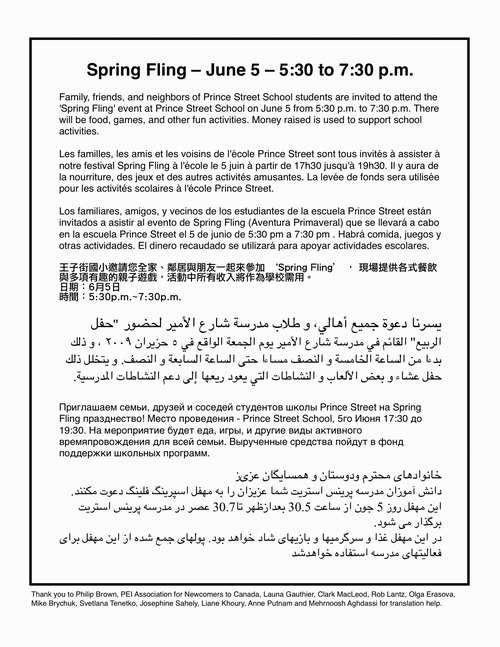 Thank you to Philip Brown, PEI Association for Newcomers to Canada, Launa Gauthier, Clark MacLeod, Rob Lantz, Olga Erasova, Mike Brychuk, Svetlana Tenetko, Josephine Sahely, Liane Khoury, Anne Putnam and Mehrnoosh Aghdassi for translation help.