A month ago my arch enemy was snow.
As spring gradually arrives, it's water that's the new foe: with 5 feet of snow in our backyard (and I am not exaggerating) and temperatures forecast to be above 5ºC tomorrow, we're preparing for waterfalls in our basement.
Fortunately, unlike others with modern basements, we have a 1820s-style foundation in our house that is no barrier to water at all, and so no real expectation of keeping the basement dry. Our job is to allow the water in and then to assist it in getting out, via our team of sump pumps, as quickly as possible.
To this end, we had a plumber in this morning with a jack-hammer to dig a new trench from the area around the furnace over to sump pump number two: this has been the weak point (requiring a shovel-equipped Catherine to waft water from one half of the basement to the other) in previous winters.
Now all we can do is wait.
Meanwhile, my roof-raking strategy paid off big dividends, as you can see from the side-by-side comparison with our neighbour: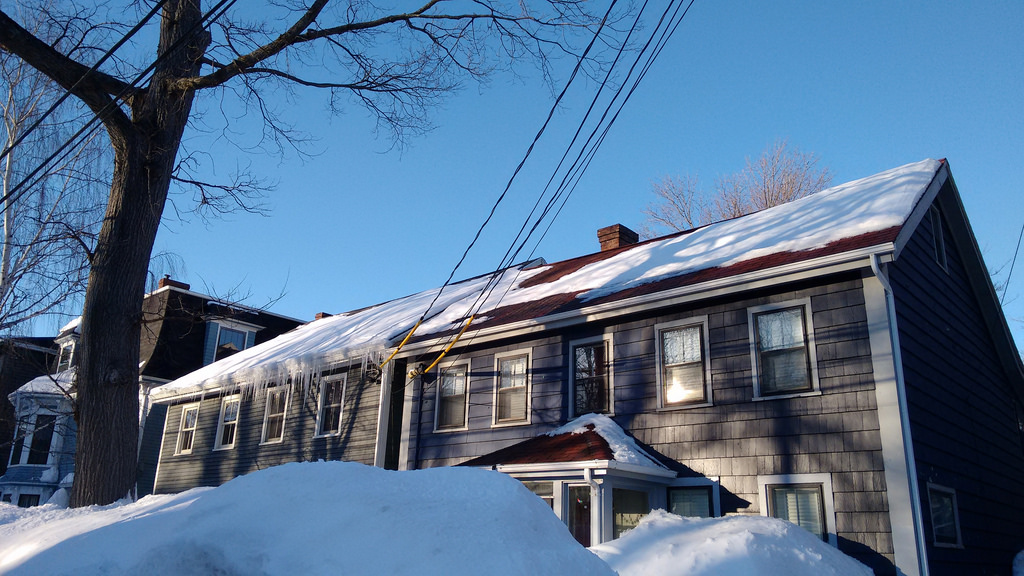 I've been out after every snowfall with the roof rake – sometimes three or four times a day when it's been storming – and so I'm happy to report that we've been completely free from ice dams since our original issues arose. Although I can't believe I'm writing this, I think I'm actually going to miss raking the roof once spring arrives in earnest.