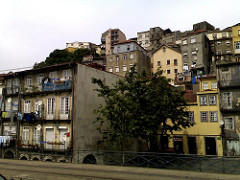 On Sunday, after considerable recuperative sleep, we decided to venture into Porto, the large city to the south of us (and the country's second-largest city; I called it "Portugal's Summerside," but that doesn't really do it justice).
Access from Leça da Palmeira to Porto is dead simple: walk over the swing bridge and get on on the shiny new Metro at the Mercado stop for a direct train into the city. The Metro — more of a streetcar out here in the suburbs — uses the same cars they have in Montpellier, France that we rode last year; they're Canadian Bombardier Flexity models that are the cat's pajamas as regards cool "feels like your in the future" urban transportation.
Forty-five minutes later we emerged at the São Bento stop, in the hear of "old Porto." Ten minutes down the hill we found the Douro River, one of the features that provided the rationale for traveling here. It is a sight to behold, and perhaps the grandest urban river I've yet to encounter. Much of its majesty derives from the steep banks that surround it: Porto rises dramatically from the banks, almost vertically in places. There are also the famous "six bridges" over the river that, like Halifax, let you mark your location in the city.
After a quick lunch at a riverside café (accompanied by buskers), we took advantage of the generous Sunday opening hours of Porto museums (3 p.m. to 7 p.m.) to walk the river and make a museum day.

First stop was the Alfândega, home to the Museu dos Tranportes e Comunicações — the Transport and Communications Museum. This museum holds an impressive collection of 20th century automobiles, starting with a car built in 1903 and ending with a 2005 Toyota Prius. The building is as impressive as the cars; it's a former customs house, and the floors are lined with rails used, in its former life, to roll cargo around.

Next we headed west down the river to the Museu do Vinho do Porto, a subterranean space (also a former customs warehouse) with exhibits detailing the history of the port wine trade in the city. Most interesting to us was the exciting metal-enclosed washrooms and the generous kids area, with a giant rug-map of the city and a Rubic's Cube-like puzzle of a Porto bridge scene.
At this point in the museum-going day, Oliver started to flag a little, becoming obsessed with taking pictures of obscure setups that he had difficulty communicating; we thought we were going to hit a wall, but a sudden breath of rain renewed our fire, and we continued down-river to the trolley museum.
Run by the local public transit authority, the Museu do Carro Eléctrico

is a towering building (overseen by perhaps the nicest museum attendant I've ever met) filled with trolley cars from Porto's history. While once the dominant vehicle for public transit, the trolley system has contracted to a San Francisco-like waterside line that appears to exist more for tourists than for practical use; the museum keeps the old trolleys, all in excellent shape, around for the next generation. Best of all, as kids (and fathers and mothers) are concerned, you're allowed to jump right up inside most of the cars (all but the most ye olde ones). And the ticket to the museum (2 EUR a person) includes a ride back up the side of the river on the working trolley (which makes a lot of sense for a museum located at the end of a long line of museums, with its resulting role as an "end point" of a museum day).
Sunday being Mother's Day, at least in North America, we couldn't let the fun die just then, so we walked back the hill to the Metro, made our way back to Leça da Palmeira and, after some hungry aimless wandering, found a restaurant waiting for us.
The beauty of being overseas for Mother's Day is that it's not Mother's Day for anyone else, so we had the place entirely to ourselves; it was as if Oliver and I had bought out all the tables and reserved the sole waiter to serve us personally. We started dinner with an entrée of fried mushrooms and coleslaw; we also received a complimentary dish of what we suspect was blood sausage — smoky, spicy, deep red — that Oliver quite enjoyed, chewing his way through two big pieces (we can't get him to eat Chicken McNuggets, but he'll happily eat spicy blood sausage; if he's not careful he'll be kicked out of childhood). For main dish, Oliver and I both had fried local whitefish served with a side of carrots, garlic cabbage and french fries; Catherine, who wasn't quite sure what she was ordering, ended up with a large bowl of spicy rice topped with shrimp, shellfish and a large fried egg. It was all very good. For dessert Oliver and I split a chocolate mousse and Oliver and Catherine split a chocolate crepe (which explains why Oliver got a sudden burst of energy). Oh, and somewhere in there we polished off a bottle of Ferreira Esteva, which explains why I got a sudden burst of inability to walk straight.
By the time all was said and done, we got home at 10:30 p.m. and tumbled slowly to sleep. Oliver, bless his heart, decided to wake up at 6:00 a.m. the next morning…